Prizes were given away throughout Sunday's game to the Chiefs Kingdom's amazing fans that came out to support their team in the snowy, icy, 24-degree weather. It all led up to an incredible grand prize at halftime, a Chiefs Red Ford Fusion rolled onto the field to be given away to one lucky Chiefs fan.
Almost 4,000 fans entered the contest over the past week, for a chance to be randomly selected to kick a field goal to win the car.
The three contestants, chosen at random, stood on the field eagerly waiting their turn to kick a field goal. They each had three attempts, one from the five-yard line for one point, from the 10-yard line for two points or from the 15-yard line for three points.
The first two contestants only connected on their first attempt from the five-yard line; scoring one point each. The last contestant, Austin Rivett from Omaha, Nebraska missed the first field goal, but connected on his second attempt at the 10-yard line, good for two points and the car.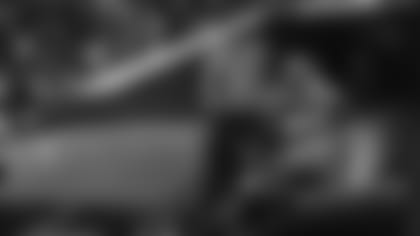 "I still can't believe that I just won a car but I'm so excited and thankful," Austin said. "All I was thinking while I was out there was, 'don't fall down and get enough points to win.'"
Mary Rivett, Austin's wife, was waiting on the sidelines, jumping up and down and celebrating her husband's accomplishment.
"It's incredible that he won," Mary commented. "This whole experience, being down on the sidelines and winning a Ford Fusion, it's unbelievable. I'm so proud of him and it has definitely been the best Christmas."
The Chiefs and the Midwest Ford Dealers Association teamed up to present the grand prize of the day. The Midwest Ford Dealers Association is the official car and truck of the Kansas City Chiefs, making this special opportunity possible.
Austin said he prepared and practiced for this car giveaway, determined to drive the Ford Fusion home.
"I'd like to thank my nephews for all their training and helping me learn how to kick a field goal before this event," Austin said. "I'm so happy we won and would also like to thank the Midwest Ford Dealers Association. This is a great Christmas present."