Around 150 Chiefs fans made up of season ticket members, corporate partners and suite members took advantage of an exclusive opportunity Wednesday to visit one of the Chiefs' minicamp practices.
In the event, fittingly titled "First Look," the select group of fans was among the first to see rookie players such as Marcus Peters, Mitch Morse and Chris Conley.
Sean Curry, the director of marketing at the University of Kansas Hospital and an avid Chiefs supporter, said that was his favorite part of the event.
"I wanted to see all the new players, primarily," Curry said. "I've seen a lot about the team practicing in the offseason, so it was a great opportunity to see all the new draft picks and to see what's going on."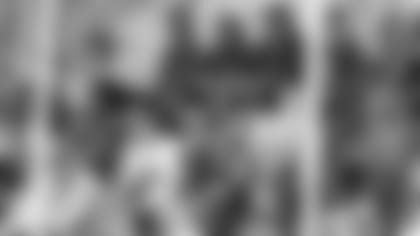 Fans arrived Wednesday morning and received brand new Chiefs gear before walking to the practice field, grabbing food and sitting down under tents with team Ambassadors Danan Hughes, Bill Maas and Mike Maslowski to watch this year's version of the Kansas City Chiefs.
Molly Brown, the Chiefs' suite services coordinator who helped organized the event, explained why "First Look" was such a special opportunity for her.
"I think it's really just opening up the doors to the fans and allowing them to see a different side of Chiefs Kingdom," she said. "Not a lot of people get this opportunity, so I think the season ticket members, the corporate partners and the suite members love being out here and interacting with the Ambassadors and getting some snacks and food and just enjoying the Chiefs."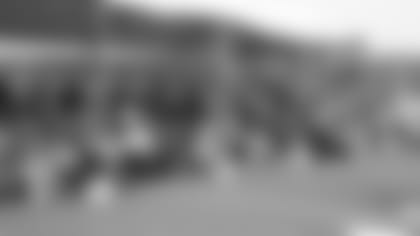 After practice, Chiefs president Mark Donovan, general manager John Dorsey and even head coach Andy Reid addressed the fans in attendance.
"It's pretty cool, to get an opportunity to get the 'First Look,'" Curry added. "You feel like you're in on something."
---
Chiefs Season Ticket Members were able to gain admission using their points through the Chiefs Kingdom Rewards program.
Suite Members and Season Ticket Members received an exclusive opportunity to view the Chiefs during one of mandatory minicamp practices held at The University of Kansas Training Complex.