The old adage, 'It's not how you start, it's how you finish' applied to the Kansas City Chiefs, who on Friday ended their weekday practices in strong fashion, preparing for Sunday night's matchup against the Denver Broncos.
Following Friday's practice, Chiefs head coach Andy Reid walked off the field and provided an injury update, as well as thoughts on the Week 11 showdown against the 8-1 Broncos.
"We have no injuries right now," coach Reid said. "Everybody practiced today and everything worked out fine, (Mike) Catapano included. He did practice the whole week. We look forward to the challenge of playing the Denver Broncos. We know they're a good football team. Our guys have prepared for them and we've had a good week of preparation. We look forward to that opportunity to travel tomorrow and getting up there and getting ourselves right for the night game."
Given the magnitude of the game, along with the timing and the buildup, coach Reid was asked if it's crucial to weather the potential strong start by the hometown team.
"You prepare yourself the same way each week," coach Reid said. "That's how you go about your business. You get yourself wherever that point is for yourself. You get yourself ready to play and then you go play. That's what you do. All the hoopla and all of that stuff doesn't matter once the ball is kicked off. You're playing the game. That's what I expect the guys to do. I think they've prepared that way, and I'm not expecting anything less."
When the Chiefs offense takes the Sports Authority Field at Mile High on Sunday night, it will face a Broncos defense that ranks fourth best in the league for net rushing yards per game allowed (87.0). Playing in his fourth game of 2013 on Sunday will be Broncos LB Von Miller, who continues to draw the attention of many, including Chiefs offensive coordinator Doug Pederson.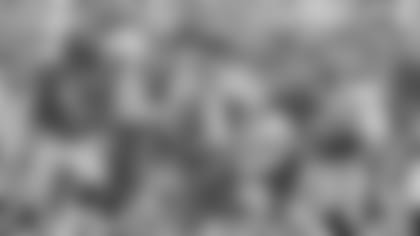 "He adds an element of pass rush that has really kind of sparked this defense," Pederson said. "You can't just double team him all the time, because they have three, four other guys that can rush the passer. You have to account for him. You have to know where he's at, if he lines up on the right side or left side. He'll line up all over the field in the linebacker position. He brings an energy level to that defense that has helped them."
In addition to the Broncos pass rush, the Chiefs will face what is sure to be a boisterous home crowd, something they're prepared for, according to Chiefs OL Donald Stephenson.
"We've played in some pretty crazy environments already, but I'm pretty sure this is going to be the biggest one," Stephenson said. "We expected it. It's a big game, a rivalry game. If we go there and pay attention to the snap count and have good communication up-front; we should be able to handle it."
When the Chiefs defense is on the field, it won't experience near the crowd noise as the Chiefs offense, but instead, it'll face the well-documented talent and hand signals of Broncos QB Peyton Manning.
"We're not going to feed into what he's saying," Chiefs LB Tamba Hali said. "Peyton's smart to come up and not even call a play. It's a dummy count, just to see what we're doing. He'll just say 'hut hut hut hut', just to see if we're coming or not. He does that, after he see what he thinks is out there, then he goes ahead and calls his play. If we feed into that, he's pulling guys offside."
Most of the Chiefs game preparation has been finalized and will be followed by the team's travel to Denver on Saturday, leading to another epic chapter of the storied Chiefs-Broncos rivalry on Sunday night, with kickoff set for 7:30 PM CST.
For a look at the Chiefs Friday Injury Report, click here.