Roughly 72 hours after their win against the Jacksonville Jaguars on Sunday, the Kansas City Chiefs returned to the practice fields, under a sun that generated temps in the mid-to-upper 90s. Prior to practice, coach Reid addressed the media to talk about Sunday's opponent, the Dallas Cowboys.
"We look forward to the opportunity and the challenge of playing the Cowboys," coach Reid said. "We know they're a heck of a football team and we welcome them here, into Arrowhead to our fans, and just like we have in the past, we'll prepare aggressively this week and make sure we're ready to play against a good football team."
Fortunately for coach Reid, he has great players to prepare for Sunday's clash with the Cowboys, including Pro Bowl LB Justin Houston, who was named the AFC Defensive Player of the Week. Houston said the award means one thing.
"It means I have to keep working," Houston said. "I put that (Jags) game behind me; it means nothing, I have to look forward to this week. They (Cowboys) have a bunch of athletic guys; their quarterback, running backs and receivers. They have a bunch of playmakers, so we have to be on our assignments, on the same page and do a lot of communicating."
When asked about putting pressure on Cowboys QB Tony Romo, Houston said he's going to do what he's paid to do.
"That's me doing my job," Houston said. "My job is to put pressure on the QB and if I put pressure on the QB, the guys behind me provide great coverage, then everybody's on the same page and we have fun out there making plays."
Houston's teammate, Chiefs CB Brandon Flowers, who had four tackles and one interception on Sunday, says the entire defense is on alert for the playmaking ability of the Cowboys.
"Our whole defense will be challenged," Flowers said. "We're going to be challenged on the back end. They can also run the ball with (Cowboys RB DeMarco) Murray, so our front seven is going to be challenged; it's going to take a group effort, like it did last week in Jacksonville, to bring this (Dallas) offense to a halt, but we're all buying in and we'll be well-prepared by the coaching staff that we have. It's going to be a great game on Sunday."
Speaking of QBs, the Chiefs signal-caller, Alex Smith met with the media after today's walkthrough and talked about the Cowboys ability to create turnovers.
"They lead the league in turnovers," Smith said. "(They) Got six the other night against a good team and you could certainly see they emphasize that, stripping at the football, pulling at it, doing anything they can to create turnovers; that's something we need to be aware of, protecting the football."
One of the guys who will be protecting the ball is Chiefs FB Anthony Sherman, who spoke to the confidence he has in his team's QB.
"If you're open, Alex (Smith) does a great job of finding those open guys," Sherman said. "It's just trying to get open and trying to get the ball."
Chiefs fans are hoping Sherman has a similar performance from Sunday, when he caught four Alex Smith passes for 44 yards. One of Sherman's catches went for 26 yards and if plays similar to it happen this Sunday, Arrowhead Stadium's roar will be in full effect.....advantage Kansas City.
Footnotes on AFC Defensive Player of Week - Justin Houston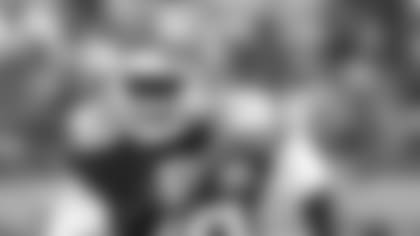 • Houston totaled five tackles and three sacks in the Chiefs' 28-2 win over the Jacksonville Jaguars.
• He played a vital role for the Chiefs defense that limited the Jaguars to 178 total net yards (107 passing, 71 rushing) and forced two interceptions.
• Houston joins Pro Football Hall of Famer Derrick Thomas (six on September 6, 1998) and Vonnie Holliday (three on September 7, 2003) as the only players in club history with at least three sacks on Kickoff Weekend.
• Houston's three sacks tied for an NFL-high and led the AFC in Week 1.
• In his third season from Georgia, this is Justin's first-career Defensive Player of the Week Award.
• Houston is the first Chiefs linebacker to win Defensive Player of the Week, since Derrick Johnson did so in 2011 (Week 8).
Click here to see more photos of Justin Houston's big day against the Jags.