Sunday's win is forgotten. There's no more talk of the victory over the Dallas Cowboys; instead, the Kansas City Chiefs focus is on a different NFC East opponent, the Philadelphia Eagles, who they face Thursday night.
While the popular story in the media continues to be the return of Chiefs head coach Andy Reid to the place he resided and coached the last 14 years, the City of Brotherly Love, preparations for the crucial Week 3 game continue at One Arrowhead Drive.
Coach Reid isn't spending his time thinking about the nine playoff appearances, including five NFC title games, as well as one NFC title and a Super Bowl appearance (2004) that he helped bring to Philadelphia; instead, his attention is exactly where it's been since Chiefs chairman and CEO Clark Hunt hired him in January.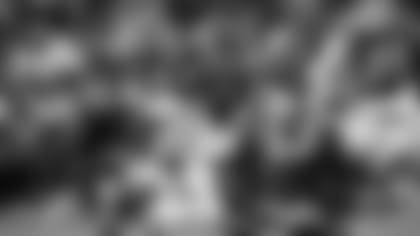 "In this business, you're focused in on getting your team ready to play," coach Reid said during a conference call on Monday. "That's where my energy is going to go. I haven't really thought about that other part at all. I don't necessarily plan on thinking about that. I want to make sure I concentrate on the game at hand and anything else becomes a distraction and I'm not going to let that happen."
Chiefs offensive coordinator Doug Pederson also returns to Philly, where he has not only coached with Andy Reid, but also played for the Eagles in 1999, but those memories are put on the shelf for now, as we're just days away from Week 3.
"It's a short week," Pederson said. "It's kind of hard to get caught up in the emotion of everything. We're still trying to game plan and put our guys in the best possible situation for Thursday night. You don't have time to really get caught up and think about everything that's going on."
Involved in the Chiefs offensive game plan will be WR Dexter McCluster, who says the team's hopeful success against the Eagles has to start with personal belief.
"As an offense you always have to have that confidence in yourself, knowing that whatever defense they throw at you, you want to be successful," McCluster said. "Their defense is pretty fast. They run sideline to sideline, but our offense is about timing and if we're on time, we should be okay."
The fast turnaround this week, between games two and three, happens to come up against a team known for its up-tempo pace, led by Eagles head coach Chip Kelly. Philadelphia has scored 63 points in two games, equating to a 1-1 record, entering Thursday night's game. The man behind the plan to slow down the Eagles attack is Chiefs defensive coordinator Bob Sutton.
"In their system of offense, they're not going to allow you an opportunity to substitute," Sutton said. "We recognize that; we deal with that all the time. You need to get your cleats into the ground; you need to get your eyes where they're supposed to be and you still need to be able to play. I think, like most things, players and coaches are all adapting to it. You just accept it as part of it. We're going to have to adjust to that on the game field. Our players are up to that challenge and we have to work hard and go. It's going to be a challenge and it becomes even more challenging (when you're facing) a great system with some great pieces."
Chiefs CB Dunta Robinson, who returned from being away from the team for excused personal reasons, says coach Sutton always has his guys ready for any offensive attack, regardless of its style.
"Bob (Sutton) has been great," Robinson said. "He definitely gets us going. We work on certain things every week, no matter who we're playing. You see the way this league is going with quarterbacks running; it's the Michael Vick era. Michael Vick kind of invented this style of offense, this style of play. Now you see this on every football team; everybody is looking for a quarterback like that. We understand what we're about to face and we're preparing well and we'll be ready for it."
The Chiefs will practice on Tuesday, travel Wednesday and plan to use the national stage on Thursday night to begin 2013 at 3-0.