The Kansas City Chiefs QBs, rookies and previously injured players took to the practice fields Tuesday morning, working individual drills, as well as 7-on-7 and some 11-on-11. The roughly two-hour practice gave Chiefs head coach Andy Reid plenty of time to assess the team's work.
"It's good to get everybody back in the swing of things," coach Reid said. "Good to have the QBs out here, leading the way. I thought the retention was good, getting our footing and our speed up, on both sides of the ball, I think is important. We're not there yet. I was happy with the effort."
 The Chiefs wide receivers were catching most everything that was thrown their way, including impressive grabs by Tyler Shoemaker and Rico Richardson.
Several of the throws were tossed by Chiefs back-up QB Chase Daniel, who evaluated his practice.
"It felt good," Daniel said. "We knocked the rust off a little bit. It was good to get back here, get back in the groove and see our family and friends. We've been off for about six weeks now. We laid a great foundation when we left OTA's and minicamp, but we started building on that foundation today. It's baby steps right now with the rookies; there's a lot of thinking going on out there. It's our job as a quarterback to get them in the right position every time, and I think we did a good job with that today."
Daniel wasn't the only one noticing the benefit of extra practices.
"You knock some of the rust off," coach Reid said. "The young guys get another rep at what they're doing; it's a little slower pace for them, yet there are still enough players in there to challenge them. It gives them a jumpstart. We'll go through the same plays when the veterans come in that we just installed."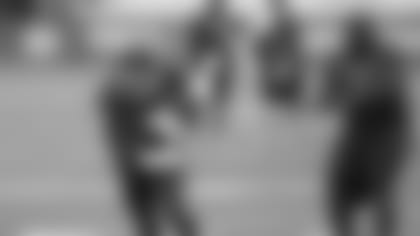 Like his teammates, Chiefs rookie RB Knile Davis is maximizing the practices leading up to Friday, when the veterans report.
"We can get back in the groove of things and get the playbook refreshed in our heads, and just get ready to get focused," Davis said.
The team will continue with meetings this afternoon, as well as a walk-through before dinner, followed by more meetings tonight. Coach Reid and company will be back on the field Wednesday morning at 8:45 AM CDT.
Chiefs rookie DB Sanders Commings left practice early and coach Reid offered the following:
"Commings is in x-ray right now. He hurt his shoulder, so we have to see about that."
When asked about Chiefs top-pick Eric Fisher, coach Reid said, "No update, there. They're still communicating."
Chiefs rookie S Malcolm Bronson was put on the PUP list (physically unable to perform), it's a non-football injury (knee). He'll continue to work out, just with the team trainers.
Chiefs WR Donnie Avery, Chiefs RB Shaun Draughn and Chiefs TE Tony Moeaki practiced today and "did a nice job," coach Reid said.
Chiefs rookie LB Nico Johnson will "absolutely" be in the running for a starting spot on defense, per coach Reid.