The Chiefs Rookie Club, along with American Red Cross representatives and local veterans, visited Little Blue Elementary School on Tuesday, helping students in third, fourth and fifth grade write greeting cards for our military via the Holiday Mail for Heroes program.
Once a year, The Red Cross delivers holiday greetings to veterans, military families and active-duty service members at hospitals and installations around the world. The cards and personal messages provide a part of home for our troops during the holiday season and are sent by tens of thousands of Americans, now including Little Blue Elementary School students and Chiefs players.
"We visited a few classrooms at the school and helped the students write greeting cards, as well as, help them understand that this is a chance to support our troops overseas and bring a part of home to them," OL Eric Kush commented. "My dad was in the Army for 13 years, so it's really important to me to support our troops and help these kids understand the importance of supporting our military."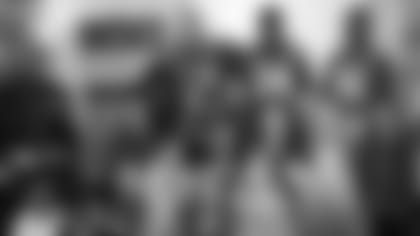 Another Chiefs Rookie, LB Nico Johnson also has family connections to the military.
"One of my older brothers is deployed right now; he's been to Iraq five times and is now in Korea for two years," Johnson said. "He has told me stories about receiving these cards and how important they are to all the soldiers overseas. We don't typically take the time to really think about how good we have it; we need to be thankful for the men and women defending our country."
The NFL's Salute to Service month honors those servicemen and women for their dedication, bravery and service to this country. The Chiefs will recognize those men and women on November 24th, during the annual Military Appreciation Day at Arrowhead Stadium.
"The NFL supports different causes each month and during November, it's Salute to Service month, which is awesome," Kush noted. "Supporting our troops and bringing more light to the sacrifices that they make for our country is wonderful."
The NFL's Salute to Service month coincides with Little Blue Elementary School's character development program, highlighting citizenship as the character trait of the month during November.
"Through our Character Plus Initiatives with our school district, our character trait for the month is citizenship, which coincides well with the NFL's Salute to Service month," Jeff Williams, Principal at Little Blue Elementary said. "We're trying to teach the students the importance of their character, how they can provide service to others in their community and the importance of recognizing veterans or active military members."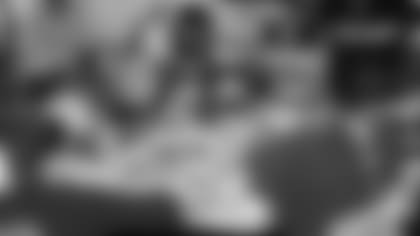 Many of the students the Chiefs Community Caring Team visited on Tuesday, have a family connection to the military.
"We have about 50 students with a family connection to the military, so, it made it even more special to have the Chiefs, Red Cross and members of the armed forces join us to create these cards," Williams explained. "It was evident that this meant a lot to those students."
Kush, whose father served in the Army, was thankful for the oppotunity to interact with the students and help them write their greeting cards for military members.
"I have family and friends that are in the military and serving overseas who have shared stories with me about how much they appreciate this gesture of just sending a card," Kush said. "It means a lot to me to be able to come to this school and help these students understand how important it is for people overseas to receive stuff from home. It's especially important during the holidays, when they have to be away from their families."
To send your own greeting card to our service members, check the guidelines here and address the card to Holiday Mail for Heroes P.O. Box 5456 Capitol Heights, MD 20791-5456.