The Kansas City Chiefs hit the virtual field on Tuesday afternoon as a handful of players took on local Marines in Madden and other video games at Arrowhead Stadium.
It was all part of the eighth annual Pros vs. GI Joes event, which brought defensive backs Kenneth Acker, Steven Terrell and Will Redmond together with servicemen and women from around the area.
"It means everything to do stuff like this," Terrell said. "These are some really cool people and we had a lot of fun today just sitting back, playing games and talking to each other over some friendly competition."
A part of the Joint Forces Initiative, the Pros vs. GI Joes movement started in 2007 with the intent of providing troops with a chance to interact with professional athletes in an authentic way.
"It's not just about the video games, it's about the connection that these guys make," said Greg Zinone, the program's founder. "It's not about getting an autograph or a picture. When you're playing and talking, you make a connection and you go home thinking that you just played your best friend, and they just happen to be a professional athlete on Sundays."
That sentiment was felt on both sides.
"It was just important for me to spend time with these great people," Terrell said. "I really respect what they do and I can't appreciate them enough. Just to sit down with them and play games with them means a lot to me."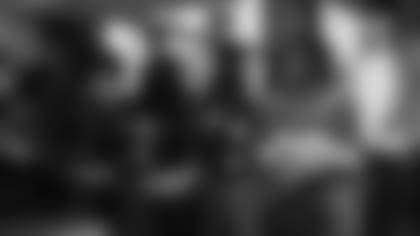 The event also served as the kickoff for the 52nd annual "Toys for Tots" collection drive, which will take place during this Sunday's game against the Oakland Raiders. The Chiefs donated 180 youth footballs to officially get the drive underway.
The effort, which aims to collect new and unwrapped toys for boys and girls up to age 13, is the longest continuously running collection of its kind between the Marines and an NFL team.
The Chiefs helped collect 834 toys and more than $11,923 in donations last season, and will be calling on fans' generosity again this holiday season as volunteers and local service members will be accepting donations outside stadium gates.
"This is an inspiration and just shows the commitment by the Kansas City Chiefs to this program," said Col. Thomas M. Fahy. "It's cool we get to come together and rub elbows with some of the players, but really when it comes down to it, we're thinking of the kids and their smiling faces on Christmas Day that would otherwise not have the opportunity to open a gift."
Both initiatives are yet another example of the Chiefs' ongoing commitment to supporting our Armed Forces.  
"People look at us and think what we do is so great, but it's nothing compared to what these guys do," Terrell said. "They're the real heroes."
Kansas City Chiefs defensive backs played video games online against deployed military overseas, and against local representatives of the Marines Combat Logistics Regiment 4 at Arrowhead Stadium.