It's not like it hasn't been written about.
Although there are some who still probably didn't believe that Kansas City Chiefs linebacker Justin Houston, who has played in just 16 games over the past two years because of a knee injury, could come back and resemble the player we all saw in 2014, when he flirted with Michael Strahan's NFL single-season sack record of 22.5 (Houston finished with 22).
While that's not a fair thing to put on him right now, Houston is fully healthy for the first time in almost two years and he reminded everyone Thursday night just what that looks like.
He finished the Chiefs' decisive 42-27 win over the New England Patriots with five tackles, two sacks, and four quarterback hits.
"He brought a ton of emotion to the game, and to the defense," Chiefs coach Andy Reid said of Houston.
Houston's presence was bigger than what shows up on a stat sheet.
He was a huge factor in the run game, which held the Patriots to just 3.5 yards per carry, and he had one of the biggest hits of the night in pass coverage—legally spearing Patriots' receiver Danny Amendola on a crossing route, and when it came time to finish—Houston sealed the deal with plenty of pressure.
According to Pro Football Focus, Houston had 28 snaps in which he rushed the passer, and he got pressure on Patriots' quarterback Tom Brady six different times, which gave him a pass-rushing productivity (PRP) score of 17.9.
The "PRP" score is a formula that combines sacks hits and hurries (with hits and hurries being ¾ the worth) relative to how many times they rush the passer.
Just for reference, a Pro Football Focus "PRP" score of 17.9 over the course of a season would be the best in the history their website (dating back to 2005), and it wouldn't be all that close.
Former Chicago Bears' pass rusher Pernell McPhee's 16.5 PRP score for the 2015 season is currently the best in the history of their site. Houston was second that year at 15.3.
Despite the numbers, don't tell Houston he played well.
"I think I have a lot of work to do," Houston said of his own performance after the game. "I made some good plays out there, but I'm not satisfied where I'm at. I know I left a lot of plays out there as well."
Even with the advanced analytics showing the impact Houston had on the game, he credits his teammates for allowing him to make plays.
"It's not just me, we play as a whole," Houston explained. "Even the sacks come from my guys doing a good job—from other guys having great rushes there and my other linebackers and corners doing a great job covering, so we work as one.
"When they do their job, it makes it easy for me to do my job."
After the game, Houston spoke about the defenses resilience after the Patriots scored on their opening drive, which took less than three minutes.
"If we're going to be a championship team, we're going to be put in bad situations some times," Houston said. "If we're going to be a championship defense, that's what we have to do no matter what the situation is—we've got to play ball, and I think that's what we did.
"We made plays when we needed to."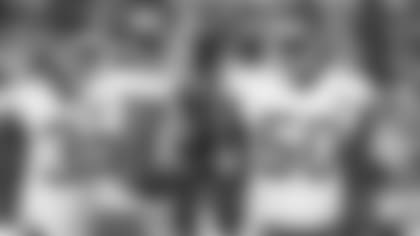 Houston and the Chiefs' defense held one of the league's most potent offenses and one of the best quarterbacks in NFL history to just 10 second-half points in their house.
It helped the Chiefs outscore the Patriots 21-0 in the fourth quarter, which was a major reason the Chiefs were able to come back from a 10-point deficit and pull out the decisive victory.
"You've just got to trust it," Houston said. "It's a long game and you've got to play all four quarters. You can't just come out and hope you make something happen in the first quarter. Things may not go the way that you want to at the start of the game, but you can't let that shake you.
"Bend but don't break, that's our motto. I don't care how many points they score or how they move the ball as long as we stop them when we need to stop them."