Derrick Johnson is just 19 tackles shy of becoming the Kansas City Chiefs' all-time leader in that category by passing former Chiefs great Gary Spani (999).
On Tuesday, Johnson spoke about the moment at practice in which he knew he was back to his regular form.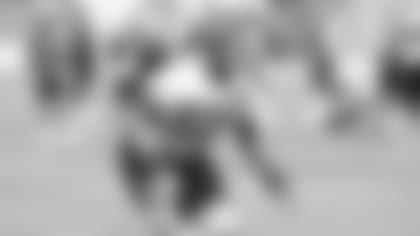 "There was one time they threw the ball out to Knile (Davis) in the flat and I tracked him down pretty good," Johnson explained.
"Then, the next play, Jamaal (Charles) caught a ball on me, so I guess I went back down a little bit. But football is never perfect, that's one of the best things about it. It's always going to humble you, even if you have a good play here and there.
"I've got a lot of work to do, but I'm excited."
Tuesday was the first opportunity for Johnson to get back on the field with his defensive teammates and line up against the offense since he was injured last season.
"It means a lot," he said. "Even though it's just OTAs, I'm a veteran, I've been to OTAs a lot, but at the same time, after being out a year, I need this time. This is going to help me get back to form and when the 2015 season comes around I'll be going."
One player who understood what getting out there and running around on Tuesday meant to Johnson was his rehab partner, Mike DeVito, who like Johnson, suffered a season-ending Achilles injury in Week 1 against the Tennessee Titans last season.
"Every time we walked by each other, we're giving each other high fives," Johnson said of him and DeVito. "It's been a long road for us. We've been talking about this day since we got hurt.
"We're definitely blessed. As long as we stay healthy, we'll do a lot with this team."
While the entire Chiefs team seemed ready to go and excited to be back on the field on Tuesday afternoon, the moment was especially special for Johnson, who wasn't as concerned about his health as he was about making plays.
"A lot of people asked me, 'You ready to go today?' and I was more worried about dropping the ball when I jumped a route—that's what I was worried about."
It's fair to say the three-time Pro Bowl linebacker has his head in the right place as the Chiefs prepare for the 2015 season
Top shots of the Chiefs LB, Derrick Johnson from the 2013 season.