Some didn't see this coming, and some knew better.
Over the first five games of the season, the Kansas City Chiefs have seen the same Justin Houston that made a habit of destroying offensive game plans before he missed 16 games the last two years because of a knee injury that lingered.
All offseason, one of the main storylines for this team was the health of Houston, who was running around and looking like he was back to his old self during minicamp and training camp.
But until he got on the field in a live situation, it was hard for many to believe he was actually back to being that player that flirted with the NFL's single-season sacks record of 22.5 in 2014—set by former New York Giants' defensive end Michael Strahan in 2001.
Houston finished with 22 sacks that year.
Through five games this year, the returns have been good. Houston has 5.5 sacks—adding another 1.5 Sunday night during the Chiefs' 42-34 victory over the Houston Texans—helping the Chiefs' defense close out their NFL-leading fifth victory of the season.
Houston also had four quarterback pressures Sunday night, and now has 21 on the season, which is tied for third-most among 3-4 outside linebackers, according to Pro Football Focus.
Despite Texans' rookie quarterback Deshaun Watson and company making some plays in the fourth quarter and refusing to let the Texans go quietly, Houston made sure to close it out, which is becoming commonplace for him.
All 5.5 of Houston's sacks this year have come in the fourth quarter, along with the deflected pass against the Philadelphia Eagles that Chris Jones intercepted, and then the fumble returned for a touchdown to close-out the win over the Washington Redskins. He's making the plays late in the game that the special players are supposed to make.
But perhaps what's even more important is what Houston brings to the table away from the field.
"He's one of the leaders of this football team and he's not afraid to voice an opinion out there," Chiefs coach Andy Reid explained of his star edge rusher. "He's going to not only let you know if he did bad, he's going to let you know if someone else does bad, and he's going to address it. He keeps everybody on their toes and at the same time, he's putting together a pretty good year.
"But again, he's coming off a couple years here where he didn't have to play the whole season, so he'll push through this thing and keep challenging himself and keep getting better there, but he's really playing good football right now."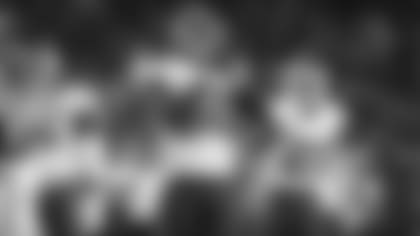 Reid said he believes that with all of the missed time over the last couple of years, Houston is appreciating everything a little bit more.
"I think he's the same guy," Reid noted. "The thing that happens is you're coming off a couple years where you've been banged up a little bit, you just appreciate the opportunity to be healthy and be out there.
"The guys are passionate about the game, that's how they handle it, so you can feel that part, for sure."
Houston saw this all coming. His teammates saw it too.
Now, the rest of us just get to appreciate it.