For the first time since the playoff loss to the New England Patriots last January, which was 310 days ago, Kansas City Chiefs outside linebacker and All-Pro Justin Houston was on the field Sunday against the Tampa Bay Buccaneers.
"It felt good," Houston, who began practicing with the team on October 19 after offseason knee surgery, explained. "It would have felt better if we could have pulled out a victory, but the game speed was not a problem for me at all. I think I felt great."
The Chiefs fell to the Buccaneers by a score of 19-17, and Houston finished the game with two tackles, including one for loss with a quarterback hit.
"I think he did some good things," Chiefs coach Andy Reid explained of Houston after the game. "When Dee [Ford] went out, he wanted to go in, and we were kind of rotating them there with the other guys. He got a lot of snaps.
"I'm sure he'll be sore tomorrow, but I thought he did some good things."
Ford, who came into the game as the NFL's co-leader in sacks with 10, left the game early with a hamstring injury. Houston, who did start the game opposite of Ford on the left side, saw plenty of action mixing in with veteran Frank Zombo.
Despite his return, Houston couldn't help the defense slow down Buccaneers second-year quarterback Jameis Winston, who finished Sunday's game 24 of 39 for 331 yards and a touchdown.
"We didn't do a good job rushing the quarterback," Houston said of the defense, which was credited with one sack on the day. "[Winston] had plenty of time in the pocket. We didn't get in the pocket at all, no penetration.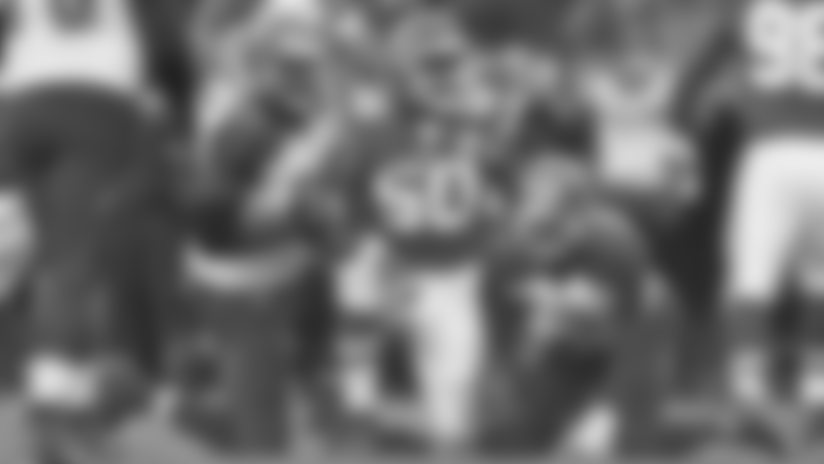 Considering all the time Houston missed this offseason as he was rehabbing his knee and was unable to practice with his teammates, the rust is going to take a little time to get knocked off, and he admitted after the game that his conditioning is a work in progress.
"It's not where I want to be," Houston explained. "I want to be out there every play. Of course that is not going to happen starting this game. I didn't get a chance to do preseason. I'm going to be a little slow at that."
In his five-year career, Houston has amassed 264 tackles, 56 sacks, eight forced fumbles and three interceptions.
Back in 2014, Houston put together one of the single most dominant seasons for a pass rusher we've ever seen—finishing with 22 sacks, just one sack shy of setting the NFL's all-time record (22.5, Michael Strahan, 2001).
Houston and the Chiefs will now prepare for Sunday's game against the Denver Broncos, which was recently flexed to Sunday Night Football.
It's a stage this team has earned the right to play on.