One of the biggest storylines coming out of last season for the Kansas City Chiefs and an area they were looking to improve is on the defensive side of the football, particularly in stopping the run.
Now, looking towards the 2018 season, the fact that one of the league's best safeties in Eric Berry—a guy who routinely makes what would be 12-yard runs, actually 7-yard runs, and 7-yard runs, actually 3-yard runs, returns to the defense is its own story completely.
But outside of that, the story here is also with the inside linebackers' position.
For the first time in more than a decade, the Chiefs won't have the franchise's all-time leading tackler Derrick Johnson roaming the middle of the defense. That will now be the duty of third-year player Reggie Ragland, who is entering his second year with the team after coming over in a trade with the Buffalo Bills at the end of the preseason last year, and also Anthony Hitchens, a priority free agent signed by Chiefs' general manager Brett Veach earlier this offseason.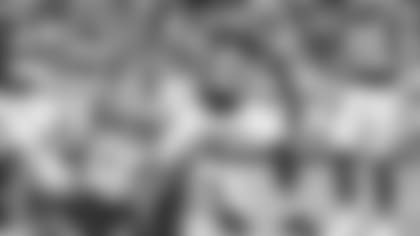 Those two players, along with Berry and the rest of the defense, will be tasked with improving a run defense that allowed an average of 118.1 yards rushing per game last year, which ranked 25th in the league.
"They're two pretty solid players," Chiefs' coach Andy Reid said of Ragland and Hitchens. "(Ukeme) Eligwe is also coming back and (Terrance) Smith as well—another year older so it gives you good inside depth and youth at the same time."
Ragland, who was coming off a torn ACL suffered in the offseason the year before, said he didn't feel 100 percent until Week 11 of last season, and for reference, the Chiefs' defense had allowed an average of 131 yards per game in the regular season before that point, and just 101 yards per game afterwards.
Individually, Ragland graded as one of the Top 10 linebackers in the AFC last year against the run, per Pro Football Focus.
And so far this offseason, Ragland and Hitchens, who actually graded out as the best free agent inside linebacker against the run in this year's class, have hit it off pretty well. 
"I have been texting with him since I signed here," Hitchens said of Ragland. "We actually went to the baseball game this last Thursday—talked all seven innings and then we ended up eating after that. I met with him, we talked, clicked right away. He's a good dude. 
"There are a lot of good guys on this team and I am just looking forward to playing with these guys. Excited about the opportunity."
"I've been talking to him for a little minute now," Ragland said of Hitchens. "He's a great guy, a very smart guy. He knows his stuff when it comes to football and I'm very excited to be working with him."
Ragland's improved health and leadership qualities, which he's demonstrated since his time as a captain and national champion at Alabama, where he earned the SEC Defensive Player of the Year Award in 2015, is something to watch for with this defense.
"I think he's ready to take the next step," defensive lineman Chris Jones said of Ragland. "It should be exciting."
"I'm very comfortable now," Ragland, who said he's lost about 10 pounds this offseason, added. "Offseason workouts, I've done a lot of stuff to spark explosiveness and I feel like I'm getting my explosiveness back. Then as far as the defense I feel like I'm more comfortable now. The verbiage of it I'm spitting it out in the meetings now so I'm very comfortable."
Part of the reason for Ragland dropping that weight was to help continue to make him a more complete player—adding his desire and ability to stay on the field in obvious passing situations. 
"I feel like I am underrated as a cover guy, but as a three-down guy you want to be the main guy out there calling everything, and you want to get the guys lined up," Ragland explained. "For me, I did it in college and I did it in high school, so for me as a player I want to be on the field when it's crunch time, and most of the time it's third down when it's crunch time."
And for Chiefs' fans, that's exactly what you want to hear from a guy who is emerging as a leader for this defense, and the fact that he's off to a great start with Hitchens, who signed a five-year deal this offseason, makes it that much better.