A day off from training camp last Thursday provided Kansas City Chiefs linebacker Derrick Johnson a chance to do some good.
For the second year in a row, Johnson distributed book bags and school supplies to more than 300 Title I students. The students were from Kansas City schools, Big Brothers Big Sisters, the Police Athletic League and the Rose Brooks Center.
"[Thursday night] was an event to give back to the inner city kids here in Kansas City," Johnson said. "It's a program called 'Gearing Up' and it's a back-to-school program to give them backpacks full of supplies, so they can be confident on the first day of school."
Together, with the help of State Farm, Johnson was able to make a difference for children who may not have had supplies otherwise.
"What Derrick's doing is kind of helping those kids feel better, get energized about school as they head off to school," Scott Cruce, the director of volunteer recruitment at Big Brothers Big Sisters of Greater Kansas City, said. "That's really neat. Just helping kids in our community feel better about themselves as they head off to school as well as giving them a really cool experience that they probably wouldn't otherwise have if it weren't for Derrick and his people."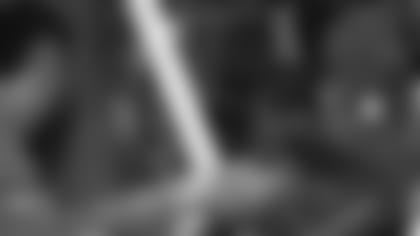 After receiving the school supplies, the children and their families were given a tour of Arrowhead Stadium. 
"For many of these kids this is their first time being at Arrowhead," Cruce added.
Shaun Rees, a State Farm agent who helped out with the event, loved watching the children receive their supplies.
"It's awesome," he said. "They just kind of light up. You know, we don't all get to see an NFL superstar and Derrick Johnson is just a good guy."
According to its website, Johnson's Defend the Dream Foundation was founded in 2012 with the mission to provide low-income and inner city young people with opportunities and resources to reach their full potential.
To achieve that, Johnson understands that proper schooling is crucial.
"Education is the key; I always preach that," he said. "My foundation caters to the inner city kids through education, making sure they know that education is very, very important, and whatever they want to be in life, education has to be the top priority."