There's little debate that when Kansas City Chiefs' outside linebacker Justin Houston is healthy, he's one of the very best at getting after the passer in the National Football League.
That was certainly on display at times last season, as the seven-year veteran tallied 9.5 sacks, 20 quarterback hurries and 16 tackles-for-loss in 15 games of action. His five sacks in the fourth quarter were tied for the fourth-most in the NFL.
And now, a full year removed from rehabbing a knee injury that shortened his 2016 campaign to just five games, Houston is ready attack the upcoming season.
"I'm in great health," said Houston following Organized Team Activities (OTAs) on Thursday. "I finished the season with no injuries last year and I was able to just focus on myself and not an injury, so that was a plus."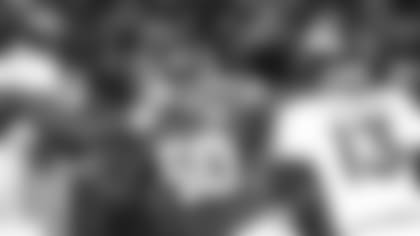 Indeed, Houston is in the midst of a standard offseason in which he can focus on his craft. That includes working with Outside Linebackers' Coach Mike Smith, who was promoted to the newly created position this offseason.
"I think it is great just to have an outside linebackers' coach," Houston said. "There's so much we get to do now just focusing on ourselves and the little things we need to work on. I think last year, we had a lot going on. You have to coach a lot of guys inside and out."
In the past, one linebackers' coach handled the entire group. This season, Smith will work with the outside linebackers while Mark DeLeone coaches the inside.
"It's hard to (coach the whole group) in the little bit of time you have," Houston said. "Now you have a separate coach, we can just focus on one thing, and that's us." 
Houston is also looking forward to playing with safety Eric Berry next season as the All-Pro defensive back returns from an Achilles injury suffered in the 2017 season-opener. The two veterans haven't played alongside one another for over half of Kansas City's games in a season since 2015.  
"I just pray we both stay healthy. It has been awhile since we both had a healthy, complete season," Houston said. "That's what I would like to see from both of us, for us to be healthy all year."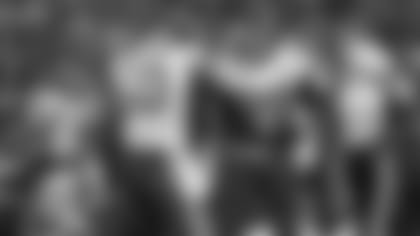 It's certainly compelling to see both players once again sharing the field, as the Chiefs are 22-12 when the duo suits up together since 2013, though Houston had his sights set on something else as the first round of OTAs wrapped up on Thursday.  
"We have a bigger goal in mind, so we don't get too excited about this right here," Houston said. "This is part of the phase. It is something we have to go through to help build to where we want to go."
Players and coaches working during OTA's on Thursday.