The Kansas City Chiefs announced on Tuesday that Head Coach Andy Reid has named Eric Bieniemy the club's Offensive Coordinator. Bieniemy is being promoted after serving five seasons under Reid as the Chiefs Running Backs Coach.
"I've known Eric a long time, both as a player and a coach," Reid said. "He's done a phenomenal job with our running backs and has been involved in every aspect of our offense over the last five years. He's a great teacher and has earned this opportunity. I know he will do a good job."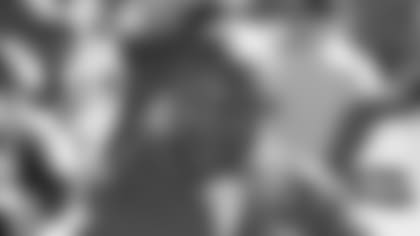 Bieniemywill enter his 11th season as a coach in the National Football League in 2018 and his sixth season with the Chiefs. Including his time as a player, Bieniemy has been associated with the NFL for two decades.
Under Bieniemy's tutelage in 2017, rookie running back Kareem Hunt earned the NFL's rushing title and a Pro Bowl berth with 1,327 rushing yards. Hunt had 10 games with 100-plus scrimmage yards. In 2016 Spencer Ware and Charcandrick West appeared as a double threat. Ware had 921 rushing yards and three rushing TDs and West rushed for 293 yards with a touchdown. Bieniemy also mentored Jamaal Charles, the franchise's all-time leading rusher, for four seasons.
Prior to returning to the NFL coaching ranks in 2013, Bieniemy spent two seasons (2011-12) at his alma mater, Colorado, as the school's offensive coordinator after coaching the running backs for five seasons with the Minnesota Vikings (2006-10). While with the Vikings, he oversaw one of the most productive rushing units in the NFL. In those five seasons, the Vikings produced a 1,000-yard rusher each year while his stable of running backs broke the 100-yard mark 31 times in 80 regular season games. While in Minnesota he mentored Adrian Peterson who totaled 5,782 rushing yards and 52 touchdowns in four seasons under Bieniemy's guidance.
Bieniemy made the move to the professional ranks after three seasons as the running backs coach at UCLA (2003-05). He returned to Colorado in 2000 after his nine-year NFL career and got his first taste of coaching as an assistant at Thomas Jefferson High in Denver that fall.
He was a second-round draft pick of the San Diego Chargers in the 1991 NFL Draft (39th overall). He enjoyed a nine-year pro career with three teams: San Diego (1991-94), Cincinnati (1995-98) and Philadelphia (1999), where he played for Chiefs Head Coach Andy Reid. In 142 career NFL games, he rushed for 1,589 yards and 11 touchdowns while catching 146 passes for 1,223 yards. His final year with the Chargers, he played in Super Bowl XXIX. Bieniemy and his wife Mia have two sons, Eric III and Elijah.