It may have been four years ago and it may have only been for a few weeks, but the time Jah Reid spent with Will Shields is something he still remembers to this day.
Reid was signed by the Kansas City Chiefs on Monday after being released by the Baltimore Ravens, who selected him in the third round of the 2011 NFL Draft out of Central Florida.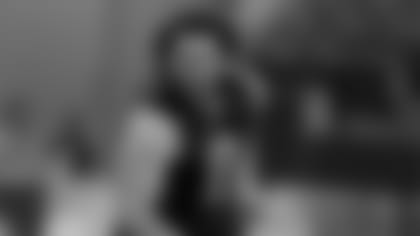 It was before the NFL Scouting Combine that year that Reid had trained at 68 Inside Sports—a training facility owned and operated by Shields in Overland Park, Kansas.
Despite their abbreviated time together, Reid remembers that time well.
"I was with him for just a few weeks but I could tell how he approached the game and how much he focused on his technique," he said of Shields, who was recently inducted into the Pro Football Hall of Fame.
Anyone who knows anything about Shields' career knows that proper technique is something he prided himself on during his 14 years with the Chiefs and something that led him to his recent induction into the Hall of Fame.
In his four years with the Ravens, Reid appeared in 39 games with seven starts, which all came back in 2012.
Coming from Central Florida, Reid explained how he made his way to the Midwest that winter to train with Shields.
"My agent knew [Shields]," Reid explained. "He linked us up and that worked out pretty well. He's a great guy and I had a great time when I was training with him."
On Monday, Chiefs general manager John Dorsey explained why they made the move to add Reid to the roster.
"Jah Reid gives us size and the versatility to play left or right tackle, as well as play a little bit of guard," Dorsey explained. "He has a really good punch and he finishes blocks. So there's a lot of combinations here when you're looking for a swing-tackle guy that can contribute – he had all the attributes you were looking for."
With all of that versatility, Reid said on Wednesday that his most comfortable position is probably on the right side.  
"I've been playing right tackle for the longest time," Reid said, "so that's probably where I feel the most natural.
"But I'm going to play wherever they ask me to; I'm going to work at all positions."
He said his first impression after arriving in Kansas City was a good one.
"It was great," Reid said. "I sat down with the general manager (John Dorsey), offensive coordinator (Doug Pederson) and the offensive line coach (Andy Heck). They told me about the scheme and how it fits my skill set pretty well. "I'm pretty excited to be here."