The Kansas City Chiefs made a huge splash this offseason with the signing of former Los Angeles Rams standout receiver Sammy Watkins, who was one of only seven receivers in the league last year who had at least 500 yards receiving, averaged more than 15 yards per reception, and also scored at least seven touchdowns.
Since 2014, Watkins also ranks sixth in the league by averaging 15.9 yards per reception.
He's a bona fide playmaker coming into a great situation.
As a matter of fact, the Chiefs now have two of the seven guys who hit those numbers in Watkins, and also Tyreek Hill, who has proven to be one of the league's elite playmakers for the Chiefs over the past two seasons. 
Hill, who broke onto the scene last year as a receiver and proved to be more than just an elite returner with game-breaking speed, finished with 75 receptions for 1,183 yards and seven touchdowns.
The addition of Watkins to an already-potent offense with the likes of Hill, tight end Travis Kelce and running back Kareem Hunt, plus the return of fourth-year receiver Chris Conley, who was injured early in the 2017 season after a fantastic offseason, means the optimism of what the top skill players could accomplish for the Chiefs in 2018 is very real.
This is especially true for the receiver position.
The Chiefs will have to try and make up for the loss of former undrafted free agent Albert Wilson, who signed with the Miami Dolphins this offseason. Wilson had the best year of his career last year—finishing with 42 receptions for 554 yards and three touchdowns.
The team does return several other players with experience, including De'Anthony Thomas, Demarcus Robinson, and Marcus Kemp, who got a little run with the team last year after joining as an undrafted free agent out of Hawaii, and a few others.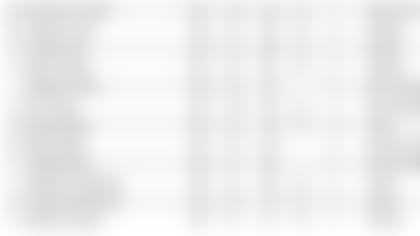 That group will now look to develop chemistry with new starting quarterback Patrick Mahomes , who will take over at QB1 with veteran Alex Smith being traded earlier this offseason to the Washington Redskins.
The Chiefs added just three young receivers this offseason in Northern Arizona's Elijah Marks, Kansas State's Byron Pringle, and East Carolina's Davon Grayson. 
Here's a bit to know about each guy:
Elijah Marks – Northern Arizona
Marks (5'11", 184 pounds) was named a second-team AP All-American and an All-Big Sky first-team player last year, finishing with 71 receptions for 1,170 yards with six touchdowns. He had three games with more than 170 yards receiving and had a stretch of five-straight games with a touchdown.
Byron Pringle – Kansas State
Last year at K-State, Pringle (6'1", 203 pounds) led the nation by averaging 25.2 yards per reception (28 receptions, 705 yards, 6 touchdowns).
Many people thought Pringle could be selected late in the draft, but upon having his choice on where to begin his professional career after going undrafted, Pringle chose the Chiefs.
After a rookie minicamp practice a couple of weeks ago, Pringle cited Chiefs' receivers coach Greg Lewis as a reason he's enjoyed his time in Kansas City thus far.
"He criticizes you, but it's also constructive," Pringle said. "I like that approach instead of beating around the bush and just telling you that you're great. He actually tells you what's going on."