KANSAS CITY, Mo. (AP) - Chiefs coach Andy Reid got a closer look at Dee Ford during the team's three-day rookie minicamp, and he liked what he saw from the team's first-round draft pick.
Ford is transitioning from defensive end at Auburn to outside linebacker with Kansas City.
''It's a new position for him,'' Reid said. ''I think he's done a great job of jumping in the book and learning the drops, the things that you need to do with the pass coverage. That's not an easy thing with all the combination things that we do. I'm happy with what he's done there.''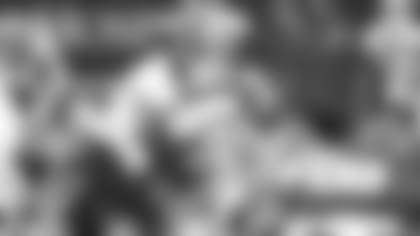 Kansas City grabbed Ford with the 23rd overall pick. The 6-foot-2, 252-pound Ford had 20 1/2 sacks and 27 1/2 tackles for loss in 52 games at Auburn. He was an All-SEC selection in 2013.
''I would tell you his quickness and athletic ability,'' Reid said when asked what stood out about Ford. ''It looks like he's spent a lot of time learning.''
Throughout the weekend, Ford either stood up or got down in a three-point stance before the snap during 11-on-11 drills. He appeared comfortable in both positions.
''All the rushers do it a lot,'' Ford said. ''It's just all about disruption. Anything we can do to confuse the tackle, or as an upside for us, just putting your hand on the ground or standing up, you just want that freedom.''
Ford gives Kansas City another pass rusher after the Chiefs had 47 sacks last season, tied for sixth in the NFL. But 36 sacks came before the Week 10 bye.
The absence of starting outside linebacker Justin Houston, who missed five games down the stretch with an elbow injury, played a role in the Chiefs recording 11 sacks in a span of seven games. Frank Zombo filled in for Houston, but recorded a single sack.
Along with Ford's skills off the edge, Reid said his intangibles are ''off the charts.''
''He brings a lot of energy,'' Reid said. ''He loves playing the game.''
Reid and the Chiefs will learn more about Ford in the next couple of weeks.
Ford lined up mostly over the right tackle during the rookie minicamp that concluded on Monday. He didn't appear to have any problem going against sixth-round pick Laurent Duvernay-Tardif on Saturday, and then Ryan McKee, an invited rookie tryout from Southern Mississippi, the last two days of camp.
Starting in Tuesday's organized team activities, Ford will line up against right tackle Donald Stephenson or left tackle Eric Fisher.
''It will give him a little different look,'' Reid said, ''but I think that quickness is going to remain. That part is not going to change. Then he'll just work his combinations against a better player, a more veteran player. But I think he'll be fine.''
For his part, Ford said the biggest areas he wants to carry over from rookie minicamp into organized team activities is consistency and believing in his abilities.
While he knows the competition level rises against the veterans, Ford wants to keep it simple.
''I don't want to say it's not much different,'' he said. ''But in my mind, I don't make things harder than what it is.''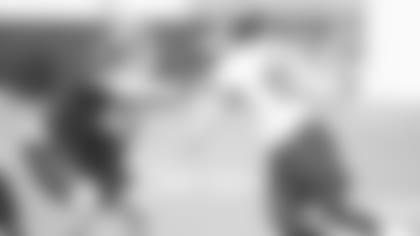 NOTES: Former Georgia quarterback Aaron Murray, who is coming back from November knee surgery, wore a brace on his left knee and practiced without limitations during the minicamp. ... Former Georgia State wide receiver and undrafted free agent Albert Wilson, who made some impressive catches throughout minicamp, caught Reid's attention. ''I like his athletic ability,'' Reid said of the 5-9, 200-pound former Panther. ''He's strong, I mean very strong even though he's not the tallest guy and he runs fast.'' ... Former BYU strong safety and undrafted free agent Daniel Sorensen recorded two interceptions on Day One of minicamp. ''Ball skills is something I feel like is a strength for me,'' he said. ''If I get a chance to play on the field, hopefully I'll be able to make the same plays I did in college.''