A record-setting crowd of nearly 4,000 Chiefs fans made their way to the campus of Missouri Western State on Friday to watch their favorite team begin what they hope is the start of something special.
With the sun shining and a light breeze blowing the countless Chiefs flags flown atop the many vehicles that filled the parking lots, Andy Reid's team took to the field for a warm-up and stretching period. From there, practice went exactly as reporters have been used to watching during minicamp and OTAs, fast-paced, including individual and special teams work, as well as the most crowd-pleasing phase of practice, 11-on-11.
"Things went well today," coach Reid told the media after practice.
"The guys, like I mentioned, had a conditioning workout this morning; I thought they did a heck of a job. The big guys were in shape and did a great job running and all the skill guys did a nice job. So then this afternoon, we had to come out and go through this exercise, again, it was offense versus scout team and then the defense versus scout team. It was just different looks that the coordinators wanted to get done. We do it by 10 plays. In this situation, we call it 10-10-10 practice and that's how they went about it. It's mainly to make sure assignments are down."
The largest opening-day crowd and non-stadium practice just happened to fall on Friday, as the cheers welcomed coach Reid as the much-embraced leader of this team.
"It was great to see the fans out here," coach Reid said. "The support of the fans, it looked like they packed the place. They were loud and that part is exciting, it's exciting for the players; they feel that. It's sure good to have some support out here. Other than that, it went smooth. The guys came back in great shape. They're going to need to be in shape because it's going to be a challenge."
While the practice went about as fluid as possible, the team completed it without Chiefs WR Dwayne Bowe, who coach Reid talked about after meeting with fans.
"As far as the injuries go," coach Reid said. "Dwayne Bowe has a virus. He's sick; he didn't feel well so, he didn't practice today. I think he's going to be back here pretty quick." Marcus Dixon strained his hamstring; we had a little bit of conditioning this morning and he strained his hamstring, just a bit and then (Dunta) Robinson had a spasm in his hamstring today but, I saw him over there catching balls so, I think he's going to be okay."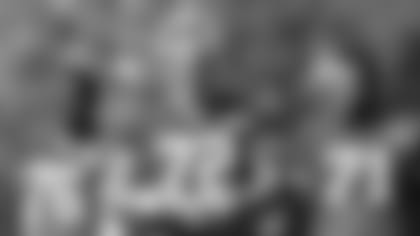 Another headline of today's practice was the presence of top-pick RT Eric Fisher, who the team signed to a deal just hours before it took the field at 3:30 PM CDT. Coming off the field after his first practice, Fisher was relieved more than anything.
"It was good to be back out here," Fisher told me. "I'm glad we wrapped up my contract and I could get out here and knock off a little rust and get after it (again) tomorrow. It's good to be back with the team."
Despite the busy day, the team's top pick isn't short of energy.
"I'm feeling good," Fisher said. "I'm ready to go. The fact of the matter is, I'm here now and that's all that matters. Now that the business part of it is done, now it's time to play some football, win some football games and make that playoff run to the Super Bowl."
As for the record-setting crowd, Fisher still finds his popularity surreal, given his position on the line.
"Yeah, it's funny being a lineman," Fisher said. "People yelling my name and (shouting) congratulations. It's a pretty huge honor and it's great having their support."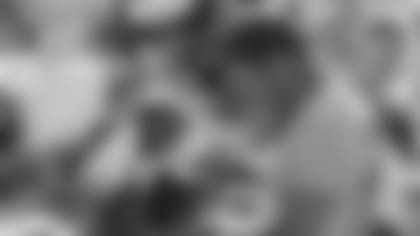 Just as popular as Fisher at the team's practice was Chiefs QB Alex Smith, who appreciated the warm welcome by Chiefs fans.
"(It's) fun with the fans," Smith said after practice. "What a great atmosphere out here; this is new for me. Definitely new territory for me and it was fun, just the energy the fans bring out here during camp; it's fun to come out and see this."
As for the on-field performance, Smith was pleased with his team's play, including the multiple deep-throw connections to Chiefs WR Dexter McCluster.
"I don't know where he couldn't line up, to be honest, as far as skill position goes," Smith said. "He's got that many tools in the belt. You see him everywhere; he's lined up all over the place, doing a lot with him and he seems to handle it all. (It's) not only a credit to his skill set but also study habits. You can tell how hungry he is. He knows his job and comes out here prepared. It's just the start; it'll be fun to put pads on because, that will be another element for him and things we can do."
After the team's autograph and media session, it was back to the meeting rooms for the Chiefs coaches, whom coach Reid said will put together an install for all three phases, offense, defense and special teams tonight, before returning to the practice fields at 8:15 AM CDT Saturday morning in helmets and shorts for a non-contact day.
In coach Reid's words, the team will "crank it up a little bit" on Sunday.