The Kansas City Chiefs (1-0) host the Denver Broncos (1-0) on the nationally televised Thursday Night Football this week at Arrowhead Stadium.
It will be a big-time matchup between two teams with high hopes for the 2015 season.
The Chiefs are coming off a 27-20 victory over the Houston Texans last Sunday on the road, while the Broncos defeated the Baltimore Ravens by a score of 19-13 in the friendly confines of Mile High Stadium.
The Broncos managed to pick up that win without scoring an offensive touchdown, as their only score was a pick-six interception return by the defense.
On Thursday night at Arrowhead Stadium, the Broncos will experience what will be one of the best atmospheres of football you can find anywhere in the NFL at any point this season.
Here's a quick look at the Broncos coaching staff:
| | |
| --- | --- |
| | |
| | |
| | |
| | |
| Special Teams Coordinator | |
Here's a look at the Broncos offensive depth chart (via DenverBroncos.com): 
Denver Broncos Offensive Depth Chart
Here's the Broncos defensive depth chart: (via DenverBroncos.com):
Denver Broncos Defensive Depth Chart
When you're talking about the Broncos, everything starts with quarterback Peyton Manning.
He's a future first-ballot Hall of Famer and he's historically been a thorn in the Chiefs side, dating all the way back to his days with the Indianapolis Colts.
He's 11-1 overall against the Chiefs in the regular season and 5-1 at Arrowhead Stadium.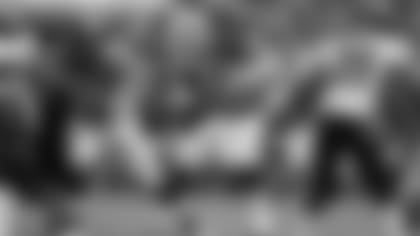 "Peyton has certain strengths that few quarterbacks have – his ability to stand back there and make decisions, orchestrate the offense in what he believes is the best way," Chiefs defensive coordinator Bob Sutton said. "That's certainly something everybody knows he does a tremendous job of."
In the two games against the Chiefs last season (both wins), Manning finished a combined 38 of 60 for 421 yards with 5 touchdowns and no interceptions.
This year, Manning is working with a new offensive coordinator in Rick Dennison and also a new head coach in Gary Kubiak, but Sutton said that shouldn't change anything with Manning, who is familiar with this offense.
"Peyton, when he started out, he was actually in a similar system," Sutton explained. "Peyton was one of the great ball fakers in our league. He was really one of the first guys that really made selling a handoff and a fake. He made it really challenging to the defense. He studied himself and he learned what he looked like when he handed it off and all of his play passes came off that.
"Peyton, actually is more familiar with this offense than people might believe. Gary [Kubiak] has his own system, the way they run it, and you certainly can see that already. There's parts of it that are still Peyton Manning, too – which I think is really smart. He's trying to take one of the great football players in National Football League history and use the things that he does well."
Overall at Arrowhead, Manning has completed 59.9 percent of his passes for 1,813 yards with 17 touchdowns and 5 interceptions.
Last week against the Ravens, Manning finished 24 of 40 for 175 yards and 1 interception.
On the outside, Manning is helped by receivers Demaryius Thomas and Emmanuel Sanders, who form one of the best duos in the NFL.
In their Week 1 win over the Ravens, these two combined for 15 receptions for 125 yards, which counted for 71 percent of their receiving total.
In the backfield, the Broncos split carries last week between Ronnie Hillman (12 carries for 41 yards) and C.J. Anderson (12 carries for 29 yards).
Manning was sacked four times and averaged just 4.38 yards per pass attempt, which is his third-lowest performance of his career dating back to 2005 (4.17 – New England – 2013, 4.36 – Jacksonville – 2005).
Defensively, the Broncos are loaded with talent at all levels and they have a new defensive coordinator in Wade Phillips, who has 38 years of experience coaching in the NFL, but sat out last year after working as Kubiak's defensive coordinator with the Texans (2011-13).
"It's been a while since we've seen [Phillips]," Chiefs offensive coordinator Doug Pederson explained. "So you've got to do a little film study, but he's been blessed with having a lot of talent on that defense and one thing that he does, is that he keeps it simple for them. There's not a ton of pressure like we saw from Houston last week.
"He has his typical blitzes, he loves to play his man coverage and mix and sprinkle in the zone. We're not going to see a barrage of pressure, because number one, he doesn't have to because he's got two great pass rushers on the outside. We're going to see a five-man rush, we're going to see single-safety middle cover 1 and again, on that short week, they're in that same situation where they want to keep it small and they want to keep it simple and just let their guys go play."
On the outside, it's a couple of former Kansas Jayhawks in cornerbacks Aqib Talib and Chris Harris Jr., who form arguably the best pairing in the NFL, that try and keep opposing passing offenses in check.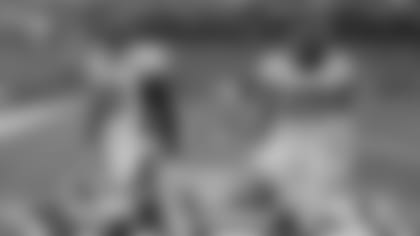 Aqib Talib (21) and Chris Harris Jr. (25)
"Both of those guys are very athletic," Pederson said. "Chris is a little bit smaller in stature than Aqib is. It seems like this they're just letting Aqib play bump-and-run press coverage, which in the past he's been a little bit more of a zone type of guy, a bump-bail type guy but they're both smart guys, they're both instinctive guys and they're physical.
"It creates a challenge for our receivers and they're going to have to be physical with their guys in order to create some separation with their route running."
It was Talib's 51-yard interception return for a touchdown that gave the Broncos the lead late in the third quarter against the Ravens last week, and it ultimately became the game-winning score.
One reason Talib and Harris find the kind of success they do is because of the pass rush generated by their two outside linebackers, DeMarcus Ware (7) and Von Miller (4), who combined for 11 quarterback hurries against the Ravens last week.
But with the Chiefs going up against a strong Texans front last week, that should help prepare them for Thursday night.
"We faced a very good front this past week in Houston," Pederson said. "As you all know, J.J. Watt's a tremendous pass rusher and you saw that in the game. That definitely prepares our guys for what they're going to see this week.
"We're going to again see two of the premiere, elite, top pass rushers in the National Football League in DeMarcus Ware and Von Miller, so it doesn't get any easier."
The Broncos will also welcome back two-time Pro Bowl safety T.J. Ward, who had to miss last week's game because of a suspension due to violation of the leagues personal conduct policy.
In two games against the Chiefs last year, Ward had 11 tackles, 1 sack and a quarterback hit.
While the Broncos have recently been known for their prolific offense with Manning and company, after last week's win over the Ravens in which the defense really carried them, the Broncos give the Chiefs the challenge they've been waiting for.
To be considered the best you have to beat the best, and the Broncos have won the AFC West division four straight years.
It's a great opportunity for the Chiefs to prove they're ready to take the top spot with a good showing in front of the entire country on Thursday Night Football.
There's no doubt Chiefs Kingdom and Arrowhead Stadium will be ready.
---
Photos from the Chiefs Week 13 matchup against the Denver Broncos