The Denver Broncos (7-1) come into Sunday's second matchup with the Kansas City Chiefs (3-5) off their first loss of the season, delivered by the hands of the Indianapolis Colts.
Denver, which leads the league in yards passing against (181 yards per game), uncharacteristically surrendered 252 yards and 2 touchdowns to Colts quarterback Andrew Luck in the contest.
The Broncos have recorded 7 wins in eight games in Gary Kubiak's first year as the team's head coach. Kubiak recently explained to the Kansas City media that the reason he chose to go to Denver wasn't just about the organization's success but rather more so about what the location and group meant to him and those closest to him.
"For me, it was about family," he said. "This is where I got my opportunity as a player. Other than a small stint at (Texas) A&M and one year in San Francisco, this is really where I got my first opportunity from a coaching standpoint, to be able to be a coordinator and those types of things. It was about family for me."
Here's a look at the Broncos coaching staff:
Special Teams Coordinator
The most intriguing part of the Broncos great start to the year has been the unfamiliar less-than-stellar play of quarterback Peyton Manning.
In his 18-year career, Manning has finished the season with more interceptions than touchdowns only once—his rookie season in 1998, when he had 28 interceptions and 26 touchdowns.
So far in the eight games for the Broncos in 2015. Manning has 13 interceptions and 9 touchdowns for a quarterback rating of 75.6. The last time Manning finished a season with a quarterback rating worse than 90.0 was 2002 (88.8).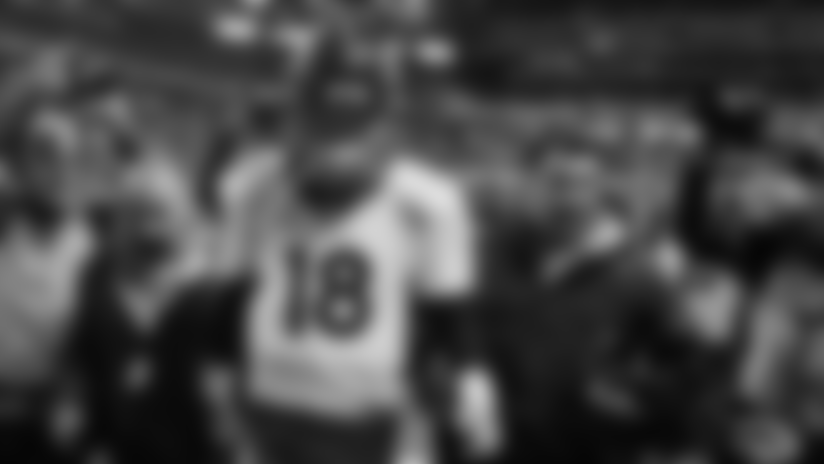 Manning, despite his struggles, is helped by three dangerous weapons in the passing game— wide receivers Emmanuel Sanders and Demaryius Thomas and tight end Owen Daniels. Those three players make up 215 of Manning's 301 targets and 8 of his 9 touchdowns on the season.
Thomas' 745 yards receiving thus far rank him fifth overall in that category in the entire NFL.
Before last week's game, the Broncos additionally added San Francisco 49ers TE Vernon Davis in exchange for two sixth-round picks—one in 2016 and one in 2017.
As Daniels deals with an ankle injury, Davis, who had 13 touchdowns in 2013 for San Francisco, should see more time after another week learning Denver's playbook under his belt.
As far as a rushing attack, the Broncos turn to running backs Ronnie Hillman and C.J. Anderson. At 92 and 88 rushing attempts respectively, it can be said that Denver likes to use an equal dose of the two.
On average, Denver rushes 23.6 times a game while passing 37.8 times a game.
Familiar Faces: Two Broncos on the offensive side of the ball spent recent time with the Chiefs—left tackle Ryan Harris and fourth-string tight end Richard Gordon.
Here's a look at the unofficial offensive depth chart for the Broncos: 
Denver Broncos Offensive Depth Chart (Unofficial)
 Here's a look at the Broncos numbers and ranks so far this season on offense:
| | | |
| --- | --- | --- |
| | | |
| | | |
| | | |
| | | |
| | | |
| Net Rushing Yards Per Game | | |
| Net Passing Yards Per Game | | |
| | | |
| | | |
| | | |
| | | |
| | | |
| | | |
Defensively, the Broncos boast the league's best defense by allowing 181 yards per game this season.
"They're fast and they keep coming at you," Chiefs head coach Andy Reid said this week. "They've got a good coordinator, experienced coordinator in Wade [Phillips] and a good scheme that goes with that."
That acknowledged, Phillips' unit will be without two of its key components this Sunday against the Chiefs.
First, linebacker DeMarcus Ware, the Broncos sack leader (6.5), re-aggravated his back in last week's game with the Colts and he should be out for the foreseeable future.
Second, cornerback Aqib Talib will also not play in the game due to a one-game suspension. Talib poked the eye of Colts TE Dwayne Allen during the teams' Week 9 contest.
Replacing Ware will likely be a familiar face to the state of Missouri in linebacker Shane Ray, who has been out since spraining his MCL in Week 6 against the Cleveland Browns. Ray, who compiled 82 tackles and 19 sacks during his three-year career at the University of Missouri, practiced limitedly on Wednesday.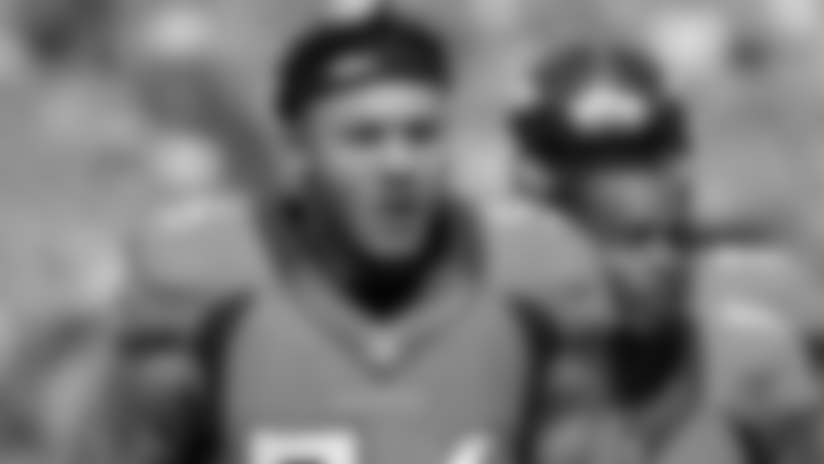 According to Mike Klis, who covers the Broncos, Bradley Roby will replace Talib in his spot.
Roby has three career starts to his name.
While there will be a but of a shakeup in the Broncos defense for its game against the Chiefs, two players to watch are LB Von Miller and defensive end Malik Jackson.
In the fifth year of his career, Miller is already a three-time Pro Bowler. Miller has 7.5 sacks in 9 career games against Kansas City, including one against Chiefs quarterback Alex Smith earlier this season.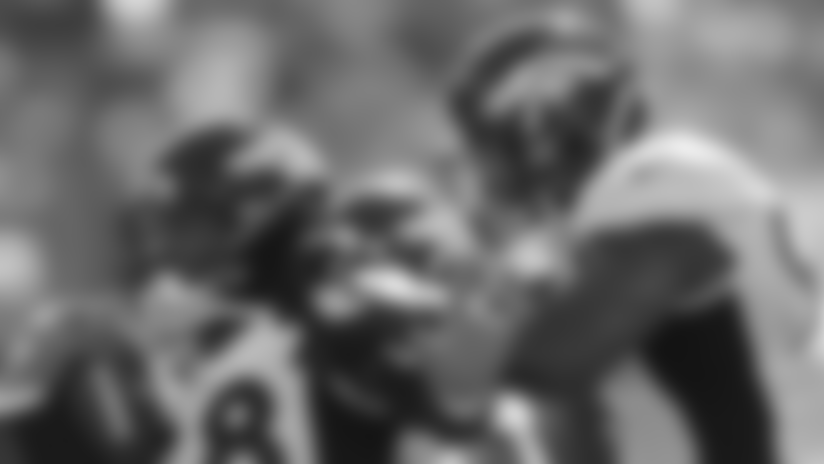 Jackson is a player to keep an eye on in both in the pass defense and rush defense game. He has already recorded 4 sacks on the season and put together a historical effort last game against the Colts.
Familiar Faces: Along with the aforementioned Ray with his time at Missouri, cornerback Chris Harris Jr. played college football at the University of Kansas.
"We're in win-now mode, and that the mindset," Harris said this week, "just try to win the Super Bowl now, try to win the division every year. That our mindset. Right now, we're in first place in the division. It's in our hands so we just got to keep it rolling."
Vance Walker, who played defensive end for the Chiefs last season, also plays for the Broncos.
Here is a look at the Broncos defensive depth chart:
Denver Broncos Defensive Depth Chart (Unofficial)
Finally, here's a side-by-side comparison of the individual statistical leaders for both teams: