The Kansas City Chiefs travel to take on the Houston Texans on Sunday for Week 1 of the regular season.
It will be the seventh time these two teams have met with the all-time series being split at three wins apiece.
The Chiefs won the last meeting back in 2013 by a score of 17-16, and with that, Chiefs head coach Andy Reid extended his winning streak to four games against the Texans (4-0), who are one of five NFL teams he has never lost to in his career.
The Texans finished the 2014 season with a 9-7 record and just like the Chiefs, narrowly missed out on the playoffs.
Here's a quick look at the Texans coaching staff:
Special Team's Coordinator
Here's a look at the Texans offensive depth chart heading into Sunday's game (via HoustonTexans.com):
Houston Texans Offensive Depth Chart
And here's a look at the defensive depth chart (via HoustonTexans.com):
Houston Texans Defensive Depth Chart
It's impossible to talk about the Texans and not begin with the reigning NFL Defensive Player of the Year, defensive lineman J.J. Watt, who Chiefs coach Andy Reid spoke about on Wednesday.
"It's a great challenge to be able to go up against a great player," Reid said of Watt. "I think from a player's standpoint, you look forward to testing yourself against who people consider the best."
Last season, Watt became the first player in NFL history to have 20-plus sacks in multiple years (2012, 2014).
He finished his accolade-filled season with 78 tackles, 20.5 sacks, four forced fumbles, five fumble recoveries, one interception and 10 passes defensed. He even scored three touchdowns while lined up on offense for good measure.
Reid said one of the challenges Watt presents opposing offenses is the way they move him around and also, the freedom they give him to freelance and adjust on the fly.
"They move him all over. There's not one place he's going to be over and over," Reid said. "They're going to move him up and down the line, inside and outside. He's a good athlete and he's a smart player.
"He keeps leverage and he's relentless, he keeps bringing it."
One player who might find himself lined up across Watt from time to time is Chiefs left guard Ben Grubbs, who explained what the offensive line needs to do to be ready for the challenge on Sunday.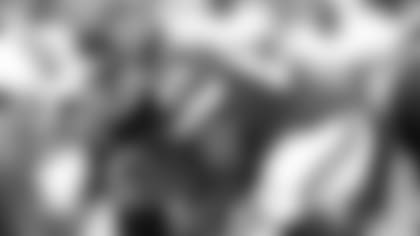 "I think the most important thing for us is going to be film work," Grubbs said. "They do a lot of different things with their defense, a lot of different stunts. Then, on top of that, you have to account for each individual player every play.
"We're going to have to have good footwork, hand placement and make sure we keep our eyes up. It's going to be a huge challenge, but we're definitely up for it."
The Texans defense finished last season with 34 takeaways (20 interceptions, 14 fumble recoveries), which was the most of any team in the NFL.
On Wednesday, Chiefs quarterback Alex Smith said that all starts up front.
"They get a lot of pressure and I think that wears down on quarterbacks," Smith explained of the Texans opportunistic defense. "Then all of the sudden you get guys making bad decisions or rushed decisions, and I think watching the film, that's what you see.
"You have to be able to handle it for four quarters."
Smith understands that even with solid protection from the offensive line throughout the game, there are times in which he's going to have to make plays with pressure around him.
It's something he was able to do when these two teams met back in 2013, when Smith finished the game 23 of 34 for 240 yards and one interception, adding 28 yards rushing and a touchdown as well.
"Going back a couple years and watching when we played them, you're going to have to make a lot of plays with a guy in your face," Smith explained. "Luckily, we made them a couple years ago.
"For me, guys will be in my face and I'm going to have to make good throws and be accurate."
A couple of the other guys to watch along the defensive front for the Texans are veteran nose tackle Vince Wilfork and last year's No. 1 overall pick Jadeveon Clowney.
Wilfork, the 6-foot-1, 325-pound space-eater, spent the first 11 years of his career with the New England Patriots before going to the Texans this offseason.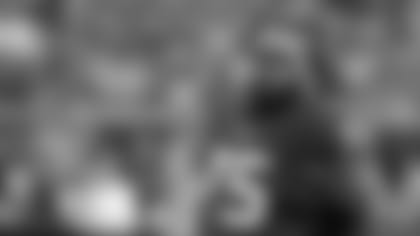 "He's going to bull rush you and, on occasions, he may try to do a swim move or something like that," Grubbs said of Wilfork. "I think we're going to have to mainly account for [Wilfork's] strength, making sure that we get in good position to block him."
Clowney is coming off a disappointing rookie season that was spent on injured reserve after multiple injuries cost him all but four games and ultimately led to him having to undergo microfracture surgery on his knee in December.
"His first step is ridiculously long," Grubbs said of Clowney. "He can get to your edge very fast. Making sure you take the proper set for a player like him, making sure you use your hands, making sure you get your hands to his chest before his hands get to your chest, I think would be a vital part to making that block.
"He doesn't have a lot of film (because of the injuries), but we still have to be prepared for him."
In the secondary, the Texans had six players who had multiple interceptions last year, led by former first-round pick Kareem Jackson with three, veteran Johnathan Joseph with two and third-year player A.J. Bouye with three.
All three of them also played more than 630 snaps for their defense, which can't be said for either of their starting safeties, who both joined the Texans this offseason.
Free safety Rahim Moore spent last season with the Denver Broncos and strong safety Quintin Demps came over from the New York Giants.
On the offensive side of the ball, the Texans are led by quarterback Brian Hoyer, who is in his first year with the Texans and his fourth team overall in his seven-year career.
He was most recently with the Cleveland Browns, with whom he completed 55 percent of his passes for 3,326 yards with 12 touchdowns and 13 interceptions in 14 games last season.
He won the quarterback job over Ryan Mallet during the preseason, and even though it's his first year with the Texans, he spent a year with O' Brien in New England back in 2011. Therefore, he had a grasp of the offense prior to joining the Texans.
The Texans have playmakers on the outside, especially including their former No. 1 pick back in 2013 out of Clemson, receiver DeAndre Hopkins. Hopkins finished No. 12 in the NFL last season with 1,210 yards receiving with six touchdowns.
Hopkins' emergence over the past two years is one reason the Texans could absorb the loss of Andre Johnson, who joined the Indianapolis Colts this offseason after a storied 12-year career with the Texans.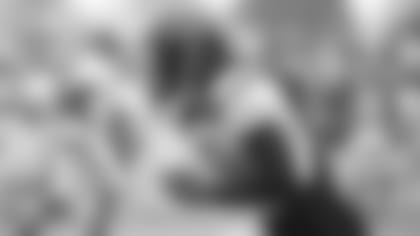 Johnson is the franchise's all-time leader in yards receiving (12,661), receptions (927) and touchdowns (61).
The Texans added a couple of young receivers to the mix this offseason by signing former Jacksonville Jaguars receiver Cecil Shorts and drafting former Arizona State receiver Jaelen Strong in the third round.
They've also added veteran Nate Washington, who is in his 11th year in the NFL and spent last season with the Tennessee Titans, this offseason.
Along the offensive line, the Texans are anchored by left tackle Duane Brown, who has been named to three consecutive Pro Bowls heading into 2015.
Brown is currently dealing with a hand injury that has cost him some recent practice time, but he's expected to play on Sunday, although he may be wearing some form of a cast.
One player who will be key to the Texans offensive success will be familiar to several Chiefs players in center Ben Jones, who played collegiately at Georgia (2008-11) alongside linebacker Justin Houston (2007-10), quarterback Aaron Murray (2009-13), linebacker Ramik Wilson (2011-14) and receiver Chris Conley (2011-14).
The biggest change for the Texans will be in the backfield, where they won't be able to count on veteran running back Arian Foster for the first few games of the 2015 season because of a torn groin suffered during training camp that required surgery.
Foster ran the ball 260 times for 1,246 yards with eight touchdowns last season.  
It will be second-year player Alfred Blue who will see the lion's share of the carries on Sunday. The former sixth-round pick out of LSU carried the ball 169 times for 528 yards and two touchdowns last season as a rookie.
The Chiefs face an opportunistic Texans defense that thrived on takeaways a season ago, when their 34 takeaways turned into 88 points on the board. That's why taking care of the ball and making Hoyer and the Texans offense drive the entire field to score is a key in this game.
"You never want to give a team short field, especially with our defense," Smith said. "Chances of driving against our defense is rare and you want to continue to play good team football."
Smith is 45-15-1 in his career when he doesn't throw an interception.
That means limiting the impact Watt will have in the game, which is easier said than done, is not something Smith is focused on.
"As a quarterback, you see their front and you're studying more of the whole defense than any one guy, but (Watt) jumps out there. He makes a lot of plays. "He's earned his respect."