The Kansas City Chiefs (1-4) travel to take on the Minnesota Vikings (2-2) on Sunday in a rematch of Super Bowl IV, which resulted in the one and only Chiefs championship to date as they left Tulane Stadium with a 23-7 victory back on January 11, 1970.
There were 15 Pro Football Hall of Famers involved with that game, including MVP quarterback Len Dawson, who will be there this Sunday as he continues to provide analysis for the Chiefs Fox Football Radio Network.
The Chiefs hold a 7-4 advantage in the all-time series over the Vikings, although Sunday's game is full of players on both teams who have never played one another. The last meeting between these two teams came back in 2011.
The Vikings have won both of their games at TCF Bank Stadium, which is where they call home this season as their new stadium is currently being built. The stadium is also home of the University of Minnesota Golden Gophers.
They defeated the Detroit Lions 26-16 back in Week 2, then followed it up with another impressive win in Week 3—a 31-14 victory over the San Diego Chargers.
Their two losses both came on the road, a 20-3 loss to the San Francisco 49ers in Week 1 and then a 23-20 loss to the Denver Broncos in Week 4.
The Vikings are coming off their bye week and have had plenty of time to prepare for Sunday's game against the Chiefs.
Here's a look at the Vikings coaching staff:
Vikings coaching staff

Special Team's Coordinator
Here's a look at the Vikings offensive depth chart (unofficial):
Minnesota Vikings Offensive Depth Chart (Unofficial)
Here's a look at the Vikings offensive numbers through their first four games:
Net Rushing Yards Per Game

Net Passing Yards Per Game
The Vikings offense isn't really a secret.
The ball is going to running back Adrian Peterson early and often and everyone knows what kind of challenge that presents for opposing defenses.
In two home games this season, Peterson has averaged 130 yards rushing with almost 25 carries per game.
Throughout his nine years in the NFL, Peterson has accumulated 43 regular season games with at least 100 yards rushing.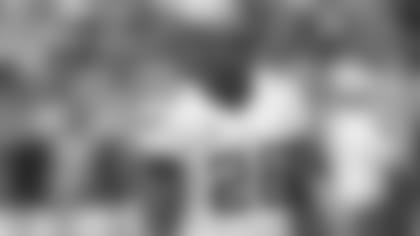 The only current NFL running back with more career rushing yards than Peterson (10,562) is Frank Gore (11,398) of the Indianapolis Colts.
At 32 years old, Gore is also two years older than Peterson.
Earlier this week, Peterson was asked about Chiefs running back Jamaal Charles, who has the unfortunate task of rehabbing a torn ACL for the second time in his career.
Peterson, who also had to overcome a torn ACL back in 2011, is confident about the return of Charles.
"He'll bounce back," Peterson said. "I hate to see him go down like that, man, it hurt me to the core [to see] my guy go down, and on the opposite leg as well. He's been through it before with the left knee and now he knows what to kind of expect doing the rehab and recovering from it, so that's one positive.
"I'm going to make sure I reach out to him during the offseason because I know he's back down in Texas and stuff, try and get him to come work out with my guy and, you know, to get him back to doing what he does best."
The Vikings passing game, led by quarterback Teddy Bridgewater, ranks last in the NFL by averaging just 165 yards per game, but much of that is due to the fact that they've only attempted 115 passes this season, which ranks as the fewest of any team in the NFL.
The Vikings right now are much like the days of Marty Schottenheimer's Chiefs—they are built upon the strength of their defense and running game.
They are the least penalized team in the NFL and have committed just 4 turnovers all season, which also ranks as one of the best marks in the NFL.
On the outside at receiver, veteran speedster Mike Wallace leads the team in targets (24), receptions (20) and receiving yards (233).
Here's a look at the Vikings defensive depth chart (unofficial):
Minnesota Vikings Defensive Depth Chart (Unofficial)
Here's a look at the Vikings offensive and defensive numbers and NFL ranks:
Net Rushing Yards Per Game

Net Passing Yards Per Game
The average age of the Vikings players is just 25.8 years old, which is the seventh-youngest mark in the NFL.
On the defensive side of the ball, seven of the 11 starters are 27 years old or younger.
Led by 26-year-old safety Harrison Smith, 23-year-old linebacker Anthony Barr and 27-year-old defensive end Everson Griffen, the Vikings defense has allowed just 18 points per game this season, which ranks among the best in the NFL.
Chiefs coach Andy Reid has been familiar with the defensive-minded Vikings head coach Mike Zimmer for a while.
"We've competed against each other," Reid said of Zimmer. "All the way back at Northern Arizona (Reid coached there in 1986), [Zimmer] was at Weber State, so we go way back here, it's a crazy deal.
"He's a coach's kid, grew up around football and he's got a good system—similar to what Cincinnati did. He and (Bengals head coach) Marvin (Lewis) are very close, so he's got those guys up there playing hard and aggressive. He's got a bunch of young guys that play hard within a good system and they're well-coached."
With a solid running game and a well-coached defense full of young talent that's only getting better, the Chiefs have their hands full if they're going to pick up their second win of the season on Sunday against the Vikings.
---
Photos from the Chiefs third preseason game against the Vikings