The Oakland Raiders, through 11 games with five to go, have compiled five wins, a higher total than each of the past three seasons (2012, 2013 and 2014).
Much of that credit has to go to new head coach Jack Del Rio, whose 30 years of NFL experience as either a coach or a player has seemed to shift the culture in Oakland.
"We know they're an improved football team from what they were last year," Chiefs head coach Andy Reid said of the Raiders this week. "You could see them improving last year. They've even taken a few more steps forward this year, we get it."
The biggest difference for the Raiders this year is that they are defeating the teams they are supposed to. The teams they have beat—Baltimore, Cleveland, San Diego, the New York Jets and Tennessee—have a combined record of 17-38.
Oakland's strength is its offense, ranking 10th in yards per game (362.8). The Raiders rank 27th in the league in defense based upon yards allowed per game (391.0).
Special Teams Coordinator
The 10th ranked offense in the entire league starts with quarterback Derek Carr.
Carr is putting up staggering numbers, especially for his second year in the league. To this point, he's 240 of 378 for 2,895 yards passing, with 24 touchdowns, 6 interceptions and a 101.5 passer rating.
The success of Carr has been aided by the addition of rookie wide receiver Amari Cooper, who has lived up to the bill as far as the talent advertised as teams entered the 2015 NFL Draft. Carr said he recognized Cooper as a special talent at a very early stage.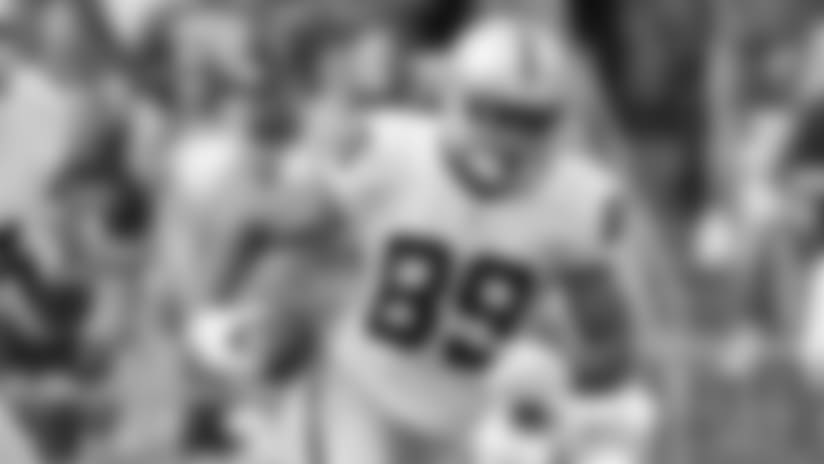 "I knew as soon as we picked him," he said. "Once he was on our team I knew he was special because I watched him play, I watched him grow in his career at Alabama. It feels like they're on TV all of the time, so I got to watch a lot of his football games not even knowing him or knowing that we would be teammates or anything like that, so I got to watch him grow as a player."
With 58 receptions for 851 yards receiving and 4 touchdowns, Cooper is putting together a strong case for the Offensive Rookie of the Year.
Cooper is complemented by Michael Crabtree, who came to the Raiders this offseason after spending the first five years of his career with the San Francisco 49ers.
Crabtree leads Oakland in both targets (104) and receptions (61), and the one-two punch he offers with Cooper has made the Raiders passing offense very dangerous.
"They're like big brothers," Carr said of Cooper and Crabtree. "They both root for each other, they're both each other's biggest fan, and I think that those two are like the perfect blend to be together, especially with their personalities. They're two guys that get along well. They compete at everything that they do, and it's fun to watch them.
"It's fun to throw to those guys because they make me look a lot better than I am."
A fantastic offensive line also protects Carr, as it has allowed only 14 sacks (T-first) and 38 QB hits (second) all season.
Running back Latavius Murray is the man in the backfield for the Raiders, but Oakland has only rushed 258 times this season compared to 411 pass attempts.
Familiar face: Center Rodney Hudson saw action in 51 games with 35 starts during his time with the Chiefs.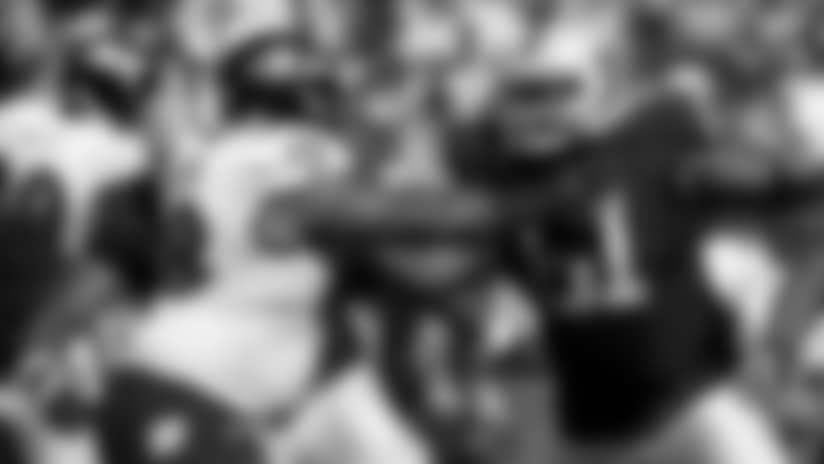 "He's just a really, really super player," Del Rio said of Hudson. "Very fortunate to get him. He's been everything we'd hoped he'd be. He's athletic, he's bright, he's come in and really solidified the offensive line and he does a great job of making the calls and identifying any potential issues and communicating with the guys."
The Raiders hope to get Hudson, who is currently dealing with an ankle issue, back this week.
Here's a look at the unofficial offensive depth chart for the Raiders:
Oakland Raiders Offensive Depth Chart (Unofficial)
Here's a look at the Raiders numbers and ranks so far this season on offense:
| | | |
| --- | --- | --- |
| | | |
| | | |
| | | |
| | | |
| | | |
| Net Rushing Yards Per Game | | |
| Net Passing Yards Per Game | | |
| | | |
| | | |
| | | |
| | | |
| | | |
| | | |
The Oakland Raiders defense, ranked 27th in the league, has been a tale of two parts this season.
The pass defense is allowing 282.2 yards per game (29th) and the rush defense is allowing 108.3 yards per game (18th), meaning most of the damage from opposing teams is happening through gains in the air.
The bright spots for the Oakland defense come from two sides of the age spectrum.
Linebacker Khalil Mack, 24, drafted fifth overall in the 2014 draft, leads the Raiders in sacks with 7.0.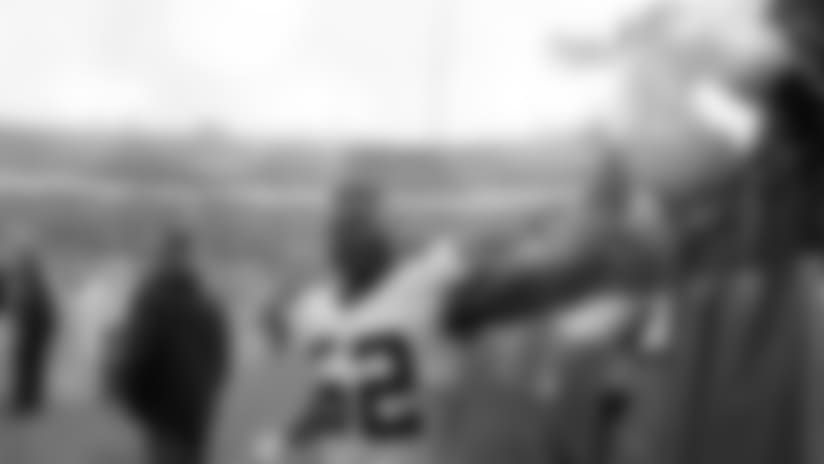 "Really good player that can rush the passer," Chiefs quarterback Alex Smith said of Mack, "certainly a guy, just through film study - he kind of demands respect, you see that. Really good player—I think you just see him being able to just do more, like anything – he can do more, you can move him around and he's dropping into coverage a little bit here and there and things like that."
Cornerback Charles Woodson, 39, drafted fourth overall in 1998, leads the Raiders in interceptions with 5. That mark also puts Woodson in a tie for second in that category in the entire league. Sunday will also be Woodson's 250th career game, fourth most for active players.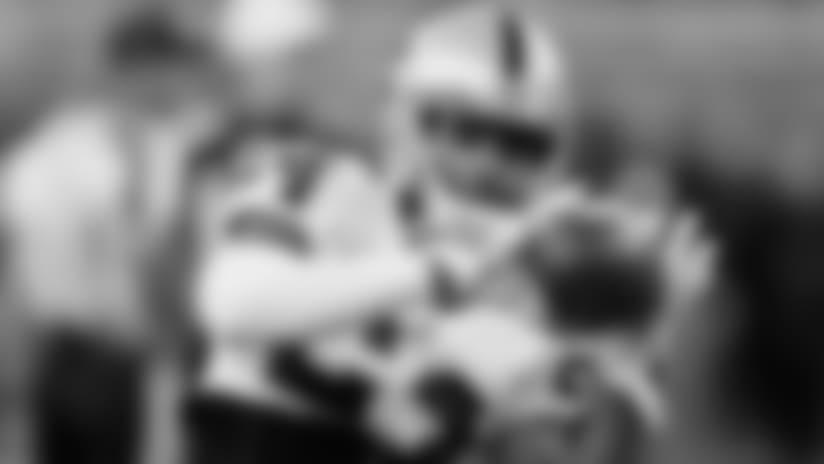 Another player to watch is David Amerson, who is second on the team in picks with 2. According to Pro Football Focus, Amerson is the 29th highest-rated cornerback in the league.
Here is a look at the Raiders defensive depth chart:
Oakland Raiders Defensive Depth Chart (Unofficial)
Here's a look at the Raiders numbers and ranks so far this season on defense:
| | | |
| --- | --- | --- |
| | | |
| | | |
| | | |
| | | |
| Net Rushing Yards Per Game | | |
| Net Passing Yards Per Game | | |
| | | |
| | | |
| | | |
| | | |
| | | |
| | | |
Finally, here's a side-by-side comparison of the individual statistical leaders for both teams: