The Kansas City Chiefs (2-2) head to the O.co Coliseum this Sunday for their 3:05 p.m. matchup with the Oakland Raiders (4-1), their biggest rival.
For the first time since 2011, the Raiders have an above-.500 winning percentage entering a game against the Chiefs.
The head coach of the Raiders is Jack Del Rio, a man with 19 years of coaching experience in the NFL.
Del Rio was the head coach of the Jacksonville Jaguars from 2003 to 2011, the defensive coordinator of the Denver Broncos from 2012 to 2014, and he took over the Raiders head job in 2015. During his playing days, Del Rio spent two seasons (1987-1988) as a linebacker for the Chiefs.
Here's a look at the Raiders coaching staff:
Special Teams Coordinator
Familiar Face:Raiders running backs coach Bernie Parmalee was the tight ends coach with the Chiefs for three seasons (2010-2012).
The Oakland offense begins with quarterback Derek Carr, who is off to an excellent start in his third season in the league. The Raiders selected Carr with the No. 36 pick overall in the second round of the 2014 NFL Draft.
"It's his third year, obviously the second in our program and working with our coaching staff and I feel like he's shown steady progress in all of the different areas you want to work a young quarterback in," Del Rio explained of Carr. "His footwork, the base that he throws from, decision making, understanding where the answers and the issues are, timing with the receivers, all those things are part of playing good quarterback. We like the way he's working."
Through 2016's first four games, Carr is 129 for 193 for a 66.8 completion percentage, and he has 11 touchdowns and just two interceptions.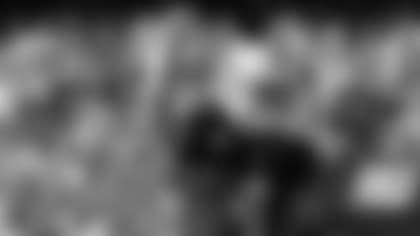 Carr's favorite players to throw to this season are top wide receivers Amari Cooper and Michael Crabtree, who have a nearly identical number of targets, with 47 and 44, respectively. Cooper has 26 receptions for 456 yards and one touchdown, while Crabtree has 29 receptions for 355 yards and five touchdowns.
"They've been really strong to start the year," Del Rio said. "I think the time they've spent growing in the system and growing with Derek and understanding how to be friendly to the quarterback all those things are paying dividends to us."
Seth Roberts, another wideout, has three touchdowns on the year for the Raiders as well.
A significant reason for Oakland's passing success is the tremendous job being done by its offensive line. The Raiders have allowed a league-low five sacks, which means Carr has had ample time to find his talented receivers.
According to Pro Football Focus, the Raiders have the league's seventh-best offensive line a quarter of the way through the season, but injuries to starting right tackle Menelik Watson (calf) and his replacement last week, Vadal Alexander (ankle), are ones to watch heading into this game.
On the ground, the Raiders could be without their top running back in Latavius Murray for the second game in a row due to turf toe. Murray did not practice with the team once again on Wednesday.
In their last game against the San Diego Chargers, without Murray, the Raiders used a combination of rookies DeAndre Washington and Jalen Richard, and five-year fullback Jamize Olawale.
"We're off to a pretty solid start this year with our running backs and our offensive line," Del Rio added. "The guys put together a good plan each week and for the most part, we've been able to run the ball pretty well."
Whether the Raiders use Washington or Richard Sunday remains to be seen, as on the year, Washington has 32 carries for 170 yards, while Richard has 25 carries for 175 yards. Richard has the tandem's only touchdown.
Familiar Face:Oakland center Rodney Hudson played in 51 games for the Chiefs between 2011 and 2014, starting in 35.
Here's a look at the unofficial offensive depth chart for the Raiders:
Oakland Raiders Offensive Depth Chart (Unofficial)
Here's a look at the Raiders numbers and ranks so far this season on offense:
Net Rushing Yards Per Game
Net Passing Yards Per Game
Even though the Raiders are 4-1, their defense is allowing 452.6 yards per game, which is the worst mark in the entire league. They are allowing a league-worst 330.6 yards passing, along with a No. 27-ranked 122 yards rushing.
One of the positions the Raiders hoped to address this offseason was at cornerback, and they did so with the signing of former Kansas City Chief Sean Smith.
So far this season, Smith has two interceptions, six passes defensed and 14 tackles (11 solo).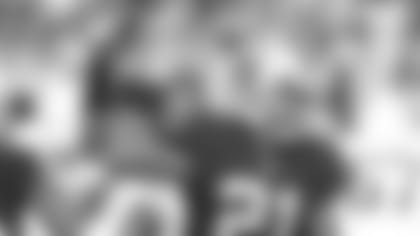 "We love the addition of Sean," Del Rio said. "He's a big guy that has a lot of experience and has played corner at a high level in this league for a number of years. He had a rocky moment or two, but he's going to settle down and do just fine for us and definitely be an asset for our defense."
This week, Smith told the Kansas City media he still keeps in touch with members of the Chiefs secondary.
"Always," he said. "I always check on all of them – Marcus (Peters), Phillip (Gaines), Steve (Steve Nelson) and Eric (Berry) – the whole squad. I have friends over there that I'm going to have for the rest of my life."
Smith is joined in the secondary by cornerback David Amerson and safeties Reggie Nelson and Karl Joseph. Nelson, a second-team All-Pro in 2015, came to the Raiders this offseason after spending the first six seasons of his career in Cincinnati.
In the front seven, the name to know is third-year linebacker Khalil Mack, who because of his talent and success, is receiving extra attention from offensive coordinators this year. Through four games, Mack has just one sack after recording 15 last season.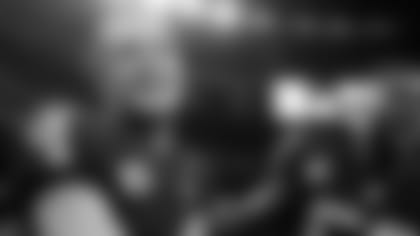 "Probably more examples of him being held at the point, that's probably the biggest thing that stands out," Del Rio said, "the number of times the opponent is just pulling him down, restricting him from getting to the quarterback. At some point, that's going to balance out, we'll start getting some of those calls.
"In the meanwhile he'll just keep battling. He's a competitive guy and he understands what we can do as a team not about anyone as an individual."
With linebacker Malcolm Smith dealing with a quad injury, the Raiders signed veteran Perry Riley last Tuesday, and he wound up leading the team with six tackles against the Chargers on Sunday.
"Really proud of Perry Riley coming in in less than a week's time and getting up to speed and playing the entire game last week," Del Rio said. "He really did a heck of a job."
Rookie Cory James has also impressed Del Rio.
"Cory James stepped in, a young man drafted out of Colorado State. He started the last couple of games and he's been a good player for us. Those are two guys that have kind of stepped up in a tough set of circumstances and have done a good job for us."
Smith, still nursing the quad, was limited at practice for the Raiders on Wednesday.
Here is a look at the Raiders defensive depth chart:
Oakland Raiders Defensive Depth Chart (Unofficial)
Here's a look at the Raiders numbers and ranks so far this season on defense:
Net Rushing Yards Per Game
Net Passing Yards Per Game
Finally, here's a side-by-side comparison of the individual statistical leaders for both teams: