The Kansas City Chiefs made a couple of roster moves Tuesday morning—placing fourth-year kicker Cairo Santos on Injured Reserve and subsequently signing rookie Harrison Butker off the Carolina Panthers' practice squad.
Santos, who missed three weeks of training camp with a groin injury, was 3 of 3 on field goal attempts and converted all 12 of his extra-point attempts this season.
According to NFL rules, Santos could return as early as six weeks from now as one of two players who is allowed to come back off the Injured Reserve list in a season.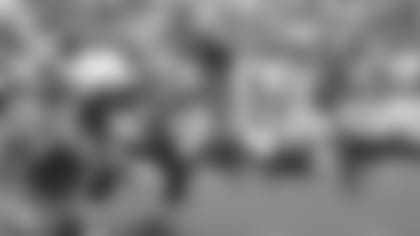 Butker, who was selected in the seventh round (No. 233 overall) of the 2017 NFL Draft by the Carolina Panthers, is Georgia Tech's all-time leading scorer after a stellar four-year career.
He didn't start kicking until his sophomore year at Westminister High School in Atlanta, Georgia, which is actually where the movie The Blind Side was filmed. He was a standout soccer player who was a part of multiple state championship teams before continuing his football career at Georgia Tech.
Prior to the draft last spring, Butker, who grew up a Georgia Tech fan, wrote an article on his mindset going into the draft for the Atlanta Journal-Constitution.
"I was fortunate to become the all-time leading scorer for Georgia Tech, something I would never have imagined," he wrote. "It was such a great honor to share with my teammates, coaches and fans and something I'll cherish for the rest of my life.
"It's been an interesting ride since then. At the end of the regular season, I wasn't even nominated as a top-20 kicker in college and wasn't invited to any all-star games. I was surprised but unfazed as I knew I had to keep working hard. However, after the Tax Slayer Bowl, where I went 4-for-4, I was named to the All-Bowl team and selected as one of just four kickers invited to the NFL combine."
Butker hit on both of his field goal attempts and made all four extra points for the Panthers during the preseason, but was cut after their Week 1 game against the San Francisco 49ers and then signed to the practice squad the next day.
His first action in an NFL regular season game will be for the Chiefs on Monday Night Football against the Washington Redskins at Arrowhead Stadium.