It's been a special season for the Kansas City Chiefs, and based on the numbers, more fans are tuning in to be a part of it than ever before.
Kansas City is tied for the top record in the AFC through 14 games this year, and from national broadcasts to noon kickoffs, the television ratings this season are pacing to be the Chiefs' best since the team began tracking ratings data back in 2009.
"The level of excitement around this team has been amplified from Week 1. People were excited coming into the season and there was that sense of wonder there - how good could this team be?" said Chiefs President Mark Donovan. "What I've seen, as we've gone through the season and based on the things that we've been able to do, it really is can't miss TV."
Indeed, this team has demanded attention on every single play.
There was quarterback Patrick Mahomes' six-touchdown performance in Week 2 against Pittsburgh, a furious comeback to beat the Broncos on Monday Night Football in Week 4 and, just two weeks ago, a thrilling rally to overcome a late deficit and defeat the Baltimore Ravens in overtime.
Even in their three losses, Kansas City has come up short by a grand total of just seven points.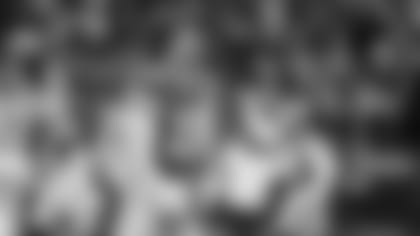 There's never a dull moment with this edition of the Chiefs, and the ratings reflect that.
The Chiefs own a 43.4 television rating through 14 games this season, which is the franchise's best mark on record. It translates into almost 400,000 households tuning in per game.
Additionally, Kansas City has garnered a market share of at least 70.0 seven times this season.
"A 40.0 rating under any circumstance is incredible. A 40.0 or 50.0 rating each week is something special," said Mike Cukyne, the Chiefs Vice President of Content and Digital Operations. "Having 40 percent of the households in the market seeing our product is delivering tremendous value for our partners."
"There's nothing else out there that does this," Donovan added. "We just came back from the league meetings and they talked about the highest-rated television programs this season. Almost all of the top shows were NFL games, with the one exception being the Macy's Day Parade. That adds perspective. Our games, every single week, are huge."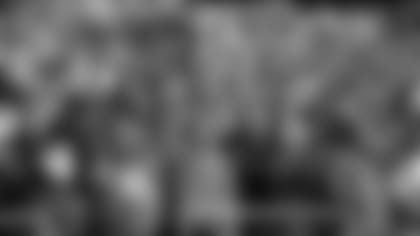 Of course, the electric play of Mahomes and the rest of the Chiefs' playmakers are right in the middle of that widespread interest.
Mahomes' jersey is the fourth-most popular in the NFL this season according to Fanatics, a national sports retailer. Online sales for all merchandise have nearly doubled year-over-year and the Chiefs rank as the eighth-most "in demand" team on Fanatics' platforms.
Fans are purchasing that gear and then turning on the games, as only in 2013 – Head Coach Andy Reid's first season in Kansas City – have television ratings reached this level.
The 43.4 mark represents the second-best figure for any NFL team in their home market this season, trailing only the New Orleans Saints, and includes a game-specific rating of at least 40.0 in 11 consecutive contests.
That streak began with the Chiefs' comeback victory over the Broncos in Week 4, which demonstrated that Kansas City was simply never out of a football game. It's continued every week since, peaking with an incredible 52.8 rating for the Chiefs' high-flying matchup with the Los Angeles Rams in late November, which was the highest in franchise history for a regular-season game.
And, with a 50.5 rating on Thursday night, the Chiefs made some history, matching the team's longest streak of consecutive contests with at least a 40.0 rating on record. The original streak was set back in 2013, when Kansas City pulled off one of the greatest season-over-season turnarounds in NFL history with a 9-0 start and a playoff appearance.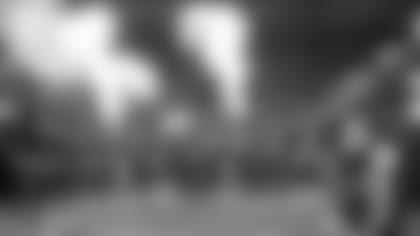 The excitement surrounding this season has now matched that of the 2013 squad, and with two regular-season games left to play, Kansas City can establish a new franchise mark the next time the Chiefs take the field against the Seattle Seahawks on Sunday Night Football.
It's a stretch that's tangibly demonstrated the excitement of Chiefs Kingdom in an era when television ratings for other programs are down.
"It shows the consistency and the passion of our fanbase. They show up and every single game matters," Donovan explained. "The second thing I would say is think about how the television landscape has changed…it makes this streak even more impressive that it's happening in 2018. To do these kind of ratings just goes back to the power of this brand and the passion of our fans."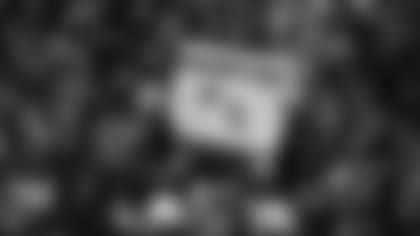 And those ratings have translated to a growing sense of brand awareness on the national – and international – stage. In China, for example, the Chiefs' are the fifth-most searched NFL team on the country's popular Sina Weibo social media platform.
Eyes that have never focused on the Chiefs before – both right here in Kansas City and a world away - are suddenly doing so.
"It's value for us and our brand, but it's value for our partners, too," Donovan explained. "If you're part of our organization and you partner with us, you benefit from all that value. Our sponsors and our partners that advertise during our games and show their official association with us, 70 percent of people watching TV in this market are seeing that. That's what's really exciting."
After all, fans of this football team don't want to miss what might happen next.