Thousands ventured to area McDonald's locations back on Sept. 7, keen on claiming their very own Chiefs Kingdom flag ahead of what promised to be an exciting football season.
Those sales added up to a tune of over $300,000, and in keeping with a more than two-decade-old tradition, the Chiefs poured those funds right back into the community that raised them.
Representatives from the Chiefs and McDonald's stopped by Ronald McDonald House Charities of Kansas City on Monday afternoon to do just that, presenting the non-profit with a check for $388,112. The funds were a combination of this year's Red Friday sales and proceeds from the Hunt Family Foundation 50/50 Raffle on Sept. 23, which set a franchise record.
Altogether, the donation could support 783 families for a five-night stay at the Ronald McDonald House, whose mission is to assist families that have children in the hospital.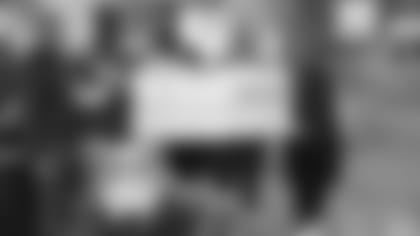 "I always tell our guests at the Ronald McDonald House that I'm sorry they need to be here, but we'll take good care of you while you're here," said Tami Greenberg, CEO of Ronald McDonald House Charities of Kansas City. "We'll give your family a place to live, to love and to stay together with a meal and a warm bed so that these kids can get better and back to their lives."
Greenberg was joined by Chiefs' Executive Vice President of Business Operations Tyler Epp, President of the McDonald's Great Plains Co-op Jim Wagy and Chiefs' offensive linemen Cameron Erving and Jeff Allen at the presentation, which marked the fifth-straight year that flag sales have benefited the non-profit.
"We're excited to be back here once again supporting Ronald McDonald House Charities of Kansas City, which does so much for families facing difficult times," Epp said. "I want to thank our players for being here today and, especially Chiefs Kingdom, whose generosity and excitement for our football team has positively impacted the lives of those in this community."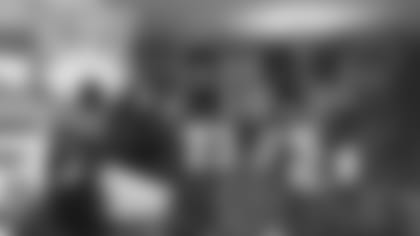 The Chiefs have raised more than $1 million for the non-profit through flag sales over the last four years, aiding thousands of families amidst a challenging time in their lives.
"We know that a lot of the people here are dealing with difficult circumstances, but when we can keep a family together, these kids will get better quicker," Wagy added. "That's what the Ronald McDonald house does – it brings people together in times of crisis and need."
The generosity of Chiefs' fans directly funded that mission once again this year, fostering a feeling of community that left an impact on Erving.
"Man, it means the world to me," Erving said. "When fans are willing to give back to people like this, it just helps me remember that there's more than football. I have a great platform to promote these types of things, but people have hearts and realize that life is special. It reminds me to live every day and to be thankful."
To learn more about Ronald McDonald House Charities of Kansas City, click here.
The Chiefs, KC Wolf and McDonald's visited Ronald McDonald House Charities of Kansas City to present a check for over $388,000, the funds raised for RMHC-KC from flag sales on Red Friday and the Hunt Family Foundation 50/50 Raffle.