Things haven't always been smooth for Kansas City Chiefs starting quarterback Alex Smith. 
The former No. 1 overall pick in the 2005 NFL Draft spent eight tumultuous seasons with the San Francisco 49ers before being traded to the Chiefs before the 2013 season.
Through these challenges, Smith has developed the kind of demeanor that's critical for the leadership position that he currently finds himself.
So when things didn't go necessarily as planned to start the 2015 season, Smith's unwavering temperament was perfect for a Chiefs offense with plenty of young players looking to their veteran leader on how to react and move forward.
"I think I've learned it the hard way," Smith said of how to handle difficult situations. "I've been through some tough periods and been through different things, and one of the things that I've taken away is it's so easy to panic early. It's easy to lose your cool.
"You want to make these crazy changes, you want to do all of this stuff and you continue to look at the film until you see the bigger picture. You see how close we were in a bunch of these games. A play here, a play there and our record's very different."
The Chiefs dropped two heartbreakers at home, first to the Denver Broncos in Week 2 and then to the Chicago Bears in Week 5, both games in which the Chiefs had leads late in the game.
Of the Chiefs five losses this season, only two have been by more than a touchdown.
A season full of high expectations began with shock and disappointment, but as eyes moved towards the guy standing under center, the even-keeled demeanor resonates with his teammates.
"You just try to be an example for a lot of the younger guys," Smith said of the tough times. "We just continue to do the little things and make those plays—make that play here, make that play there.
The tide began to turn last week for the Chiefs, who beat the Pittsburgh Steelers, 23-13, to pick up their second win of the season.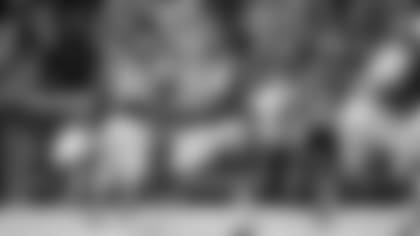 In that game, Smith completed 21 of 32 passes for 251 yards and a touchdown—his fourth game in his last five with 250 yards passing or more.
What made the win even more impressive is that Smith did that without No. 1 receiver Jeremy Maclin, who was ruled out just hours before the game because of symptoms from the concussion he suffered the week before in Minnesota.
Therefore, Smith worked with second-year receiver Albert Wilson and rookie Chris Conley, who combined to step up and grab 9 receptions for 134 yards receiving and a touchdown.
In order to pick up back-to-back wins, Smith and company will have to deal with the outside distractions that come along with playing their game on Sunday across the ocean in London as part of the NFL's International Series.
"We've got to go over there and get a win," Smith said. "That's what this is about. The circumstances are different; we're going to a different country and playing and that is exciting. It's different and there will be some different things all week that we'll have to deal with and overcome.
"But can we do it? Do we have mental strength to be able to put all of that stuff away, the distractions and put them aside and go out there and execute?"
These are the questions Smith and his teammates will have to answer.
As far as what he'll be doing on the nine-hour flight to and from London?
"Hopefully sleeping on the way over and on the way back we'll be celebrating."