It's no secret that this has been the best regular-season performance in the 13-year NFL career of Kansas City Chiefs' quarterback Alex Smith.
Smith has broken nearly every one of his personal single-season passing records, and he's even paced the league in several categories from the beginning of the season up until now as well, including the highest quarterback rating (104.7), best deep passer rating (136.2), and the most 40-yard touchdown passes (9) in the league, among others.
But perhaps the most telling stat that illustrates what Smith has done and meant to the Chiefs this year is that when they've trailed at any point in a game, Smith has completed 72 percent of his passes for an average of 8.82 yards per attempt with 15 touchdowns and just two interceptions.
Smith has stepped up when his team needed him, and that will need to continue as the Chiefs enter the postseason for the fourth time in five years under Andy Reid—looking for their first postseason win at Arrowhead Stadium since the 1993 season.
They will try and break that five-game home playoff losing streak as they host the Tennessee Titans Saturday afternoon at 3:30 p.m. CT.
Smith spoke this week about this team and that streak.
"This is all the work we've been putting in from day one," Smith explained. "We completed the first step and now it's on to the second one, which is winning this game. It's tough to add any more motivation with historic streaks or things like that.
"We would just love for that to be a byproduct of getting a win."
Smith believes that all the playoff experiences the team has experienced over the past few years can only help them as they begin this "second season."
"I think having been there can only help you," Smith explained. "Good and bad, all those experiences, I think having been at this stage before—you carry those with you. They don't make or break anything, but they only contribute."
Much of Smith's statistical success this year can be attributed to the development of second-year receiver Tyreek Hill, who went for more than 1,000 yards this season and is averaging 15.8 yards per reception. Their cohesion can be traced back to training camp, where their performances every day became a daily discussion point for everyone who was there.
The results shouldn't be that surprising because the three weeks in St. Joseph, Missouri, were just an appetizer for the meal we were all about to enjoy.
"To see how far he has come in two years—it's hard to believe it's only been two years," Smith explained of Hill. "I feel like the way he plays, the way he prepares, certainly he is matured beyond that. I really give credit to him. Trying to perfect and get better and all the little things that come with being a good route runner and a good receiver, understanding leverage and understanding how teams are playing."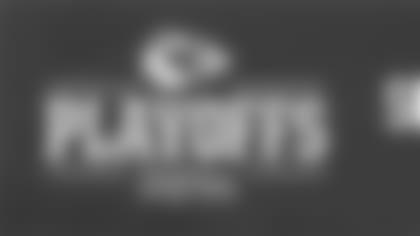 ](https://www1.ticketmaster.com/kansas-city-chiefs-playoff-game-1-kansas-city-missouri-01-14-2018/event/0600536891592930?artistid=805955&tmlink=tmheader_search)
Smith, who has fared well in the playoffs in his career from an individual perspective—completing 60 percent of his passes with 12 touchdowns and just two interceptions in six career games—understands the opportunity in front of this team.
"Everybody is amped up and the season is on the line," Smith noted. "It's win or go home. I think all that just adds to the intensity a lot of times and a lot of the stage because the ramifications are so big and so real. But it's still football at the end of the day."
"I'd tell you they understand it's single elimination," Chiefs' coach Andy Reid added. "The urgency that's involved with every practice play, every play during the game. They all matter. We're lucky to have guys that kind of get that."
Smith spoke highly of the Titans' defense, which has been one of the best in the league at getting after opposing quarterbacks this season—racking up 45 sacks as a team, which ranks fifth in the league.
"You are not keying in on one guy," Smith explained of the tough and physical Titans' defensive front. "They're all really good. They can all penetrate, they can all get after the passer and they are all disruptive. As a group, they certainly take a lot of pride in that. You can see it on film."
Led by Smith and company, the Chiefs have already accomplished something this season that they'd never done in franchise history—successfully defending a division title.
So, what's to also breaking a 20-plus-year-old home playoff win drought as well? Because this just might be the team and the guy leading them under center to do it.