Reporting day for the Kansas City Chiefs QBs, rookies and injured players had a little bit of everything on Monday, as players and coaches checked into Scanlon Hall on the campus of Missouri Western State in St. Joseph, Missouri.
Chiefs head coach Andy Reid addressed the media and provided an update on the team's top-pick Eric Fisher, who remains unsigned.
"Eric Fisher is not here," coach Reid said. "John Dorsey and Trip (MacCracken) and Joel Segal, his agent, are working through some things. I'd expect that to progress here and we'll see how it works out. I can't give you a time and I'm really not going to talk to you about contracts; that's not what we do. They are working towards it and that's important. There is communication. I've been through enough of these for a number of years and the most important thing is that there is talking that takes place and they are doing that."
While Fisher is not yet at camp, among others reporting today were the Chiefs QBs, including Alex Smith. The team's new signal caller, along with Chiefs rookie QB Tyler Bray, got checked in, addressed the media and then grabbed some lunch, after long flights from the west coast.
Smith, who enters his ninth season in the NFL and first with the Chiefs, is all in favor of reporting to camp earlier than his veteran teammates.
"I like it," Smith said. "I've done it a couple times now; I think it's great because you've got six weeks off and as far as a quarterback goes, we can work out and go throw to receivers but, we can't really assimilate 7-on-7; you can't really assimilate 11-on-11, so, it's a few days of work to kind of get back into things, so when the rest of the guys get here, we're already hitting the ground running."
Smith's back-up, Chiefs QB Chase Daniel agreed.
"Just getting back into the groove of things and getting my throwing motion back," Daniel said. "I like that quarterbacks come back with the rookies, so we can get our heads back in the playbook, not like they haven't been before. We can knock a little rust off before the veterans get in, so we can get it going at 3:30 p.m. on Friday when everyone is with us."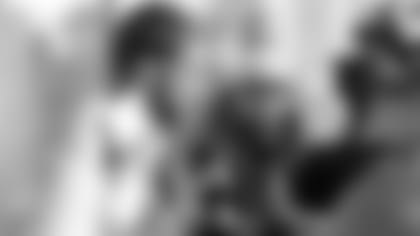 Being just a few days from the team's official first practice on Friday, Alex Smith reflected on one of his biggest takeaways from the OTA and minicamp practices.
"I think it is an extremely hungry group," Smith said. "I think this entire locker room is hungry. The expectations are high and that is a good thing. I think the fun part now will be putting the pads on and getting to real football. The offseason has all the rules and regulations and we're pretty limited, so now it'll be nice to put the pads on."
As for members of the 2013 rookie draft class, Chiefs LB Nico Johnson shared what he plans to bring to the team, during his first season.
"Letting everybody know that this is a new season," Johnson said. "It's up for grabs. The Super Bowl is up for grabs, and if we want to go after it, then we have a chance to do that. Taking advantage of the opportunity and everybody being held accountable to do their job, I think that's what I can help bring. I've been through it, been through the downs, been through the ups, so that's what I can bring."
Johnson's rookie teammate, Chiefs OL Eric Kush offered his expectations for the next few days.
"A lot more learning, before we jump into full-go with the pads," Kush said. "We're going to practice and we're probably going to pound in a bunch of the plays, so we get a little head start for us new guys; that way, when the vets come here, we're already rolling."
One of the Chiefs third-round picks, rookie RB Knile Davis checked into his dorm room Monday, which brought back memories of his college days at Arkansas.
"Yeah, it's similar," Davis said. "It takes you back to freshman year, being in dorms but, I think it's a good idea because, we're all in the same spot. We don't have to go too far, so, I think it's for the better. Getting a chance to meet with each other, when we're off the field, builds team chemistry."
As for the team's fifth-round pick, DB Sanders Commings, the former Georgia Bulldog is ready for the next chapter of his athletic life.
"I am," Commings said. "It's my first NFL camp, and I'm excited about it. It's a dream come true to be here. I'm looking forward to working hard and getting ready with the team."
One of my favorite quotes of the day came from Chiefs rookie LB Mike Catapano, who was asked if graduating from Princeton University and the possibility of "falling back" on his education would alter his focus on football; he answered without hesitation.
"Not at all," Catapano said. "This has been the plan since before Princeton came into the question. I was lucky to be able to go to Princeton. I had the grades in high school, but the goal ever since I stepped on the field when I was eight years old was to stand here before you guys today and play as long as I can. I've had one love of my life so far and that's been football."
The day concluded with dinner and a meeting, with more meetings, a short practice and an afternoon walk-through scheduled for Tuesday. 
Have questions for the players? Send them my way, to @KCChiefs_Reid, and I'll do my best to get them answered.