After the Kansas City Chiefs first OTA (Organized Team Activity) practice of the year, running back Jamaal Charles spoke his opinion on the future of the running back position in the NFL.
It's widely been considered a position that's becoming younger and younger across the league, but Charles' goals are to change that perception and trend.
"The game has changed," Charles said. "They've got all kinds of technology now, all kinds of medicine people have come up with to stay healthy. At the end of the day, an ACL you couldn't play (with), it was the end of a career.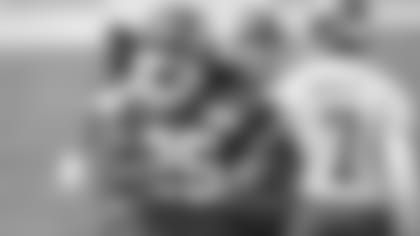 "Football is changing, sports are just changing. You can see basketball, like Kobe Bryant, he is still playing at 36. You see Tim Duncan. I think back in the days you couldn't play for long because there were a lot of people that didn't know the fundamentals of hitting, running people over. That's not my form."
"I want to play another six years so, my form is to keep on taking my diet. I'm seeing guys at 37 or 38 still playing football in the trenches and that's somewhere where you don't want to play. So I just want to change the game with the running backs. I want this to last longer and then when I retire, I'll be happy with where I end my career at."
Last season, Charles became the Chiefs' all-time leading rusher in the Week 7 matchup against the San Diego Chargers.
Coming into that game, Charles needed just 53 yards to break former Chiefs great Priest Holmes career mark of 6,070.
Despite his franchise-leading fifth season of at least 1,000 yards rushing last year, Charles said he's looking forward to playing with this new offensive line group in 2015.
"I just feel comfortable because I feel like I have a Pro Bowl guard [Ben Grubbs] in front of me," Charles said. "I've got Jeff (Allen) back and we went to the playoffs with him. We've got Fish (Eric Fisher) who is developing more in his third year, we've got Donald (Stephenson) and he played a whole season and did a great job when Branden (Albert) and Fish were going at it and battling for depth at the position.
"So now, I feel way comfortable these guys are getting focused and it's time to get the step on now."