When asked about the Kansas City Chiefs record-breaking turnaround season, both head coach Andy Reid and general manager John Dorsey were quick to speak of the collective effort by the entire Chiefs organization. An obvious component in the transformation is the entire Chiefs roster, including three-time Pro Bowl RB Jamaal Charles, who played a monumental role in the team's 11-5 record in 2013.
Below is a look at the unbelievable numbers that Jamaal produced, like he mentioned all year, behind great coaching and blocking by his teammates.
RUSHING-YARDS STATS IN 2013
259 carries (17.3 per game)
85.8 yards-per-game average
12 rushing TDs (tied for an NFL-best)
Longest Run  - 46 yards (Nov. 24, 2013 vs SD), 6 runs of 20+ yards
72 first downs (27.8% of his carries resulted in a first down)
RECEIVING-YARDS STATS IN 2013
70 catches (tied for second-most receptions by a RB in one season in team history)
693 yards (Led the team and rank first in franchise history for most rec. yards by a RB in one season)
9.9 yards-per-catch average
Longest TD catch - 71 yards (Dec. 15, 2013 vs OAK)
TOTAL POINTS SCORED IN 2013 - 114
LATE-GAME TOUCHES**IN 2013
Jamaal finished second in the league in fourth-quarter rushing, racking up 438 yards on 80 carries with three touchdowns in 15 games.
NFL LEADERS, FOURTH-QUARTER RUSHING, 2013
441 LeSean McCoy - Philadelphia
2. 438 Jamaal Charles - Kansas City
322 LaGarrette Blount - New England
282 Matt Forte - Chicago
280 Eddie Lacy - Green Bay
His 80 fourth-quarter carries are tied for most fourth-quarter carries in the NFL with Green Bay running back Eddie Lacy.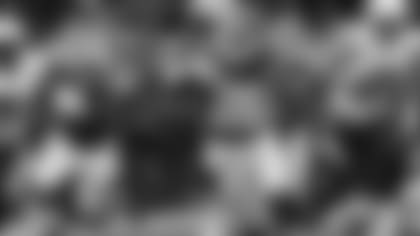 NFL LEADERS, FOURTH-QUARTER CARRIES, 2013
1t. 80 Jamaal Charles - Kansas City, 80 Eddie Lacy - Green Bay
3. 74 LeSean McCoy - Philadelphia
4t. 68 Matt Forte - Chicago, 68 Ryan Mathews - San Diego
His three fourth-quarter rushing touchdowns are tied for the fourth most in the NFL behind Seattle's Marshawn Lynch (4), New England's LeGarrette Blount (5) and Green Bay's Eddie Lacy (5).
Charles ranked third in the league in lowest percentage of rushes resulting in being stopped behind the line of scrimmage of all running backs with at least 100 carries. In his 259 carries in 2013, he was stuffed just 12 times, resulting in 23 yards lost, good for only 4.6% of his rushes resulting in lost yardage.
Jamaal's proven how explosive he can be, especially in 2013, with 37 carries of 10 or more yards, which ranked first in the AFC and third in the NFL.
Charles recorded 1,980 yards from scrimmage (1,287 rushing, 693 receiving) on 329 total attempts (259 rushes, 70 receptions). His 1,980 scrimmage yards ranked second in the NFL. Jamaal recorded more than 100 yards from scrimmage in each of the first eight games this season and had at least one touchdown in seven-straight games. The only other player in NFL history to accomplish that feat was O.J. Simpson in 1975 (9 games with 100 yards and a touchdown).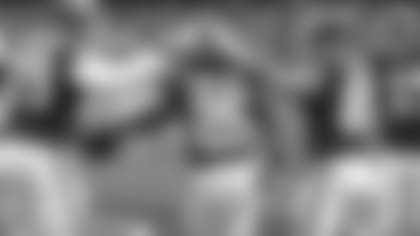 NFL LEADERS - MOST SCRIMMAGE YARDS
Rk. Player Team Yards Rush Rec.
1. LeSean McCoy Philadelphia 2,146 yards - 1,607 (rushing) 539 (receiving)
2. Jamaal Charles Kansas City 1,980 yards - 1,287 (rushing)  693 (receiving)
3. Matt Forte Chicago 1,933 yards - 1,339 (rushing) 594 (receiving)
4. Josh Gordon Cleveland 1,734 yards - 88 (rushing) 1,646 (receiving)
5. Knowshon Moreno Denver 1,586 yards - 1,038 (rushing) 548 (receiving)
Sure, the season didn't end the way Jamaal, the Chiefs or the entire Kingdom wanted it to, but I can think of plenty of reasons why (see above) Chiefs fans can be encouraged and excited for the 2014 season to arrive. Click here for the Top 25 Jamaal Charles photos.