We're now just over 24 hours away from the first-official preseason game of the 2013 Kansas City Chiefs.
The current book being written by the new Chiefs regime begins a new chapter when head coach Andy Reid, general manager John Dorsey and the rest of the team's coaches and players take the field at the Mercedes-Benz Superdome tomorrow night against the New Orleans Saints.
The last seven months have flown by, almost as fast as an Andy Reid-led practice, quick, beneficial and filled with purpose, leading us to tomorrow night's game at 7:00 PM CDT, which can't come soon enough, especially for the players.
"It will be nice to hit other people," Chiefs QB Alex Smith said. "It will be good to get back into game mode, even if it's preseason. Preparing for the game and travel, there's a lot that goes into that to get ready to play."
One of Smith's targets, Chiefs WR Jon Baldwin agreed.
"It's a great feeling to actually go against some different defensive backs, who aren't going to know what to expect," Baldwin said. "We're going to attack."
The Chiefs offensive line knows its responsibilities and will enjoy fulfilling its run and pass blocking duties even more on Friday, against guys not already on their team.
"We need to hit somebody else," Chiefs OL Jeff Allen said. "We've been going at it, working hard against one another; now it's time to take that practice onto the actual game field and everyone's going to have an opportunity to play and show what they have."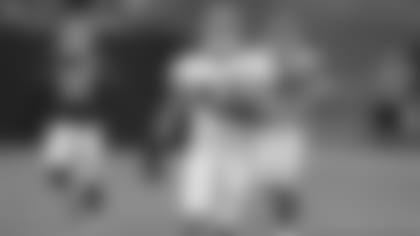 One such player looking to showcase his abilities is Chiefs LB Chad Kilgore, who spent extra time in the offseason at the team facility working out, for moments like Friday night.
"There's going to be a lot of pent-up frustration released, being able to hit somebody else, instead of the same guys every day," Kilgore said with a smile.
"It will be nice to be able to hit some new faces; just going out there and playing fast and physical."
Chiefs DE Allen Bailey echoed the same thoughts as his hard-hitting teammate, Kilgore.
"It's exciting to get to hit another opponent," Bailey admitted. "We've been going the last couple weeks against the same teammates, so it'll be good to see a different colored jersey and hit somebody else."
As excited as the Chiefs are to play against an opponent not dressed in their uniform, I think it's safe to say that everyone in the Chiefs Kingdom is more than ready to watch their favorite team do so as well.