They devote their lives to protecting those that they've never met, selflessly stepping forward to defend all that we hold dear in this country.
These individuals don't join the service for recognition or fame, it's just simply what they feel called to do, forgoing personal ambition in the private sector to become a part of something much larger than themselves.
They're the brave few who make up our Armed Forces, and some of the nation's very best are stationed right here in Chiefs Kingdom.
The Chiefs have a rich history of supporting our men and women in uniform throughout the years, and while the traditional "Salute to Service" programming can't take place at Arrowhead Stadium this year due to the COVID-19 pandemic, the organization is still doing its part to recognize the real heroes in our community.
That began this week, as Senior Airman Alexander Cavender of McConnell Air Force Base was named the Chiefs' "Salute to Service" honoree presented by Crown Royal ahead of this Sunday's matchup against the Las Vegas Raiders.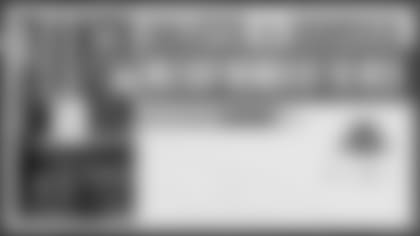 SrA Cavender is what's known as a "Tanker Medic," which refers to those who work in preventative medicine at McConnell, which largely houses re-fueling planes or "tankers." A native of Cocoa, Florida, his decision to join our Armed Forces four years ago was simple enough.
"It's a typical Air Force answer, but I wanted to see the world," SrA Cavender said. "I wanted to see new things, and I've really enjoyed my experience so far."
He's certainly done just that and more, all while making a profound impact on those around him. SrA Cavender spent time in Jordan on a deployment before arriving at McConnell and overseeing the respirator, hazardous materials and water programs on the base.
His contributions have become even more significant amidst the pandemic, as SrA Cavender directly supported the Secretary of Defense's $28 million initiative by providing subject matter expertise and education to "Air Evacuation" crew members regarding decontamination and transportation procedures for 78 infectious patients spanning two countries.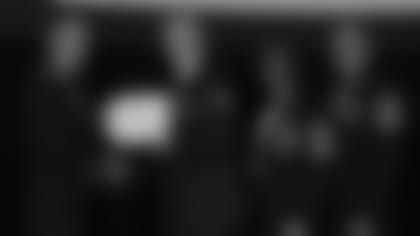 Additionally, by identifying a breach in the "Transport Isolation System," he developed two corrective processes and validated the new concept of operation, resulting in an Air Force-wide implementation to safeguard 16 crews and equipment valued at $2.4 million.
In short, he's played a major role in how the Air Force is combatting the challenges presented by COVID-19 and continues to do so on a daily basis, but despite coming through for his country when he was needed most, SrA Cavender didn't expect any recognition.
"I actually found out I was the Salute to Service honoree the day before it was announced – I didn't even know I was put up for it," SrA Cavender said laughingly. "It just means a lot to me that the Air Force recognized what I was doing and felt that I should be put up for the award."
The recognition meant a little bit more, too, because SrA Cavender is a lifelong football fan.
"I played football growing up and I was always a Bucs' fan," SrA Cavender said. "That's what my dad was, and when I first started to understand football, that's when they won the Super Bowl."
And while his allegiances still somewhat reside with his childhood team, SrA Cavender can't deny that his time in Chiefs Kingdom – not to mention his selection as this week's "Salute to Service" honoree - has led to him rooting for the red and gold on game day.
"Patrick Mahomes is my favorite quarterback in the NFL," SrA Cavender said. "I'm just extremely thankful for this opportunity, so you know what? Go Chiefs!"