They devote their lives to protecting those that they've never met, selflessly stepping forward to defend all that we hold dear in this country.
These individuals don't join the service for recognition or fame, it's just simply what they feel called to do, forgoing personal ambition in the private sector to become a part of something much larger than themselves.
They're the brave few who make up our Armed Forces, and some of the nation's very best are stationed right here in Chiefs Kingdom.
The Chiefs have a rich history of supporting our men and women in uniform throughout the years, and that tradition continues this season through the "Tribute to the Troops" program at GEHA Field at Arrowhead Stadium, which recognizes the real heroes in our community during every home game.
That initiative will take place yet again on Saturday, as SGT Stormie Bush will be recognized as the "Tribute to the Troops" honoree presented by Crown Royal during the Chiefs' matchup with the Seattle Seahawks.
An eight-year veteran of our Armed Forces, Bush originally joined the Army Reserves in pursuit of joining what she saw as the ultimate team.
"I've always been part of a team," Bush said. "I played sports in high school and college, and I saw joining the Army as becoming part of a big team. It's a family."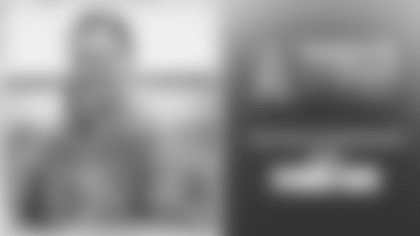 Bush – who played volleyball and basketball while also running track in high school before playing softball in college – now coaches softball at Allen Community College in Iola, Kansas in addition to serving in the Kansas National Guard. In fact, Bush was one of many soldiers who mobilized during the pandemic in service of those in need.
"I was on orders for about three months when everything else was shut down," Bush explained. "We made meals for families in need and delivered them throughout the state, which meant everything to me. I grew up in Kansas, so to give back and help others was a great experience. It really gave me a sense of purpose."
That experience meant real-world action for Bush, who clearly made an impression on her supervisors along the way. Originally a paralegal with the Army Reserves, Bush – upon the encouragement of her superiors – went on to become the first female infantry non-commissioned officer in the history of the Kansas National Guard.
"I've always been the type of person that when people say that I can't do something, I'm determined to prove them wrong," Bush said. "So, when that position opened up, I was all for it, and I've loved every minute of it."
Now a Bradley commander, Bush continues to chase down some big goals. She's in line for a promotion to staff sergeant in the near future, and this upcoming summer, Bush is attending an accelerated officer course in pursuit of eventually taking on an even larger leadership role.
Bush is a tremendous example of the incredible individuals serving our country right here in Chiefs Kingdom, and those in attendance on Saturday will have an opportunity to show their appreciation as she's honored at GEHA Field at Arrowhead Stadium.