It's a tradition synonymous with the arrival of another football season in Kansas City, rallying fans from every corner of Chiefs Kingdom under one common banner.
It's Red Friday - and for a 27th year - it will foster excitement for the upcoming campaign while helping those in need on Sept. 7.
"Red Friday is the perfect opportunity to unite the community around a great cause," said Chiefs' Marketing and Foundation Coordinator Jackson DeLay. "We are really excited about the new flag design for this year, and the chance to raise money for Ronald McDonald House of Kansas City."
That flag, which was revealed at Training Camp on Aug. 4, will be available at Kansas City area McDonald's locations on Sept. 7 with all net proceeds benefitting Ronald McDonald House Charities of Kansas City. The initiative, which raised $338,000 last year, will aid the non-profit's mission of supporting local families in the midst of difficult circumstances.
And this season, fans have the opportunity to join that undertaking – and reserve their flag – a little early.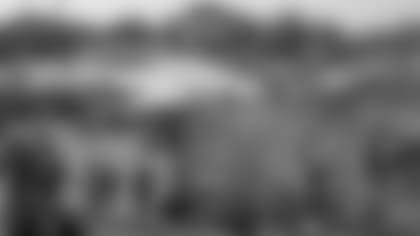 Those that purchase tickets to the Chiefs' home-opener against the San Francisco 49ers on Sept. 23 using this link will donate $5 to Ronald McDonald House Charities of Kansas City and pre-order their flag simply though reserving their seat(s).
The new flag, one per transaction, will then be mailed to the purchaser without any shipping or handling fees during the week of Red Friday. Ticket options through this promotion are limited and in select areas of the stadium - for all home-opener ticket options that do not include the Red Friday flag, visit this link.
Though through this particular promotion, fans have a chance to support a good cause and to claim their spot at Arrowhead Stadium on Sept. 23, all the while reserving the brand-new Red Friday flag.
This marks the fifth year that the Chiefs have produced a commemorative flag, with this season's edition featuring the singular word "Kingdom" enclosed in the iconic arrowhead logo and surrounded by a variety of symbols unique to Kansas City.
Head Coach Andy Reid, General Manager Brett Veach and a handful of players had a chance to sign the new flag, which will be placed outside the locker room during the season, following practice on Aug. 4.