One of the takeaways from Kansas City Chiefs' rookie minicamp last weekend was the play of sixth-round pick Tremon Smith. 
The small-school cornerback from Central Arkansas showed everyone during the three-day event what the Chiefs' scouting staff saw in him to make him one of their picks in the sixth round (No. 196 overall) this year.
While the players aren't in pads and there's no contact allowed at these minicamps, there's still something to be said for the defensive backs and offensive skill position guys going at it during the 7-on-7, 9-on-7, and team periods. 
It was during these periods that Smith stood out with his combination of length and quickness, but also for his *feel *for the game.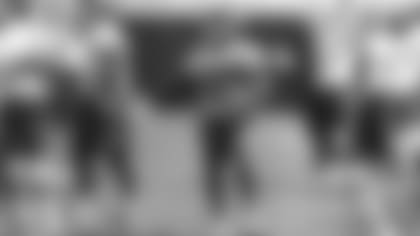 At 6-feet tall and 190 pounds, plus the fact that he reportedly ran a 4.32 40-yard dash at his Pro Day, the focus was already going to be on a guy that—with those boxes checked—is the kind of athlete you're looking for in terms of physical traits of a cornerback.
The other component is whether or not the player has a feel for the game and the functional athleticism to use his gifts to mirror receivers in the open field. It's a skill that's growing in importance as the game, and the rules, move more towards helping the offensive players. 
And although it wasn't the level of competition he'll soon face once OTAs officially begin and he's on the field with NFL veterans, Smith showed something during the minicamp—breaking on crossing routes and displaying an ability to win contested battles with the ball in the air all over the field. 
Smith even showed a little fire after making plays—a trait that's shared by the other members of his draft class as well. 
The fact that Smith was one of the top offensive playmakers during his time at Saks High School (AL) helped him make the transition to the defensive side of the ball once he got to college.
"Ball skills," Smith said of how his offensive background helped him. "Ninth through eleventh grade—I played receiver. So, I always was able to go high-point the ball. I knew when I went to defense I wanted the ball in my hand, I missed having the ball. It just made me hungrier, wanting to be a playmaker."
Smith, who was named the Alabama 3A Player of the Year as a senior quarterback, received an offer from Auburn midway through his final season but wouldn't be cleared academically, so he went the FCS route to Central Arkansas.
It didn't take Smith long to show his play-making ability transition over the defensive side—snatching two interceptions in a single game his Freshman year.  
"At first, I was asking my defensive coordinator—he was the one that recruited me—to get me on the offensive side and at least have a package," Smith explained. "But in the long run, I started getting better at it, started learning my position and the ins and outs of cornerback. 
"I fell in love with it really quick. We ran man (coverage) so it wasn't too hard."
The position fits him well. 
During his four-year career, Smith nabbed 15 interceptions, had 53 passes defensed, and was named to the AP FCS All-America Third Team in 2017. He was also a solid punt returner—averaging 9.0 yards per return with a touchdown in 2016. 
But despite not getting any opportunities at the post-season all-star games or the NFL Scouting Combine last February, Smith wasn't completely off the radar. That level of production combined with his athletic traits couldn't go undetected. 
"Extremely confident and extremely greedy as an on-ball defender, Smith was asked to play the role of island defender and did so at a high level. While he faced a lower level of competition, he possesses the size, speed, athletic ability and instincts that should be able to translate to the league. Smith has the potential to fight for either an outside or slot role, but he'll need to play with better discipline in order to avoid penalties and big plays."
The Chiefs had to like what they saw in Smith during the minicamp, and based on some well-known draft analysts projecting him to go as high as the third round before the draft, he might be a guy to watch through offseason workouts and into training camp. 
"He's very confident," Chiefs' area scout Willie Davis said of Smith. "That's a big deal about coming into this league and making it, especially from a small school like that. You can see it just talking to him—the kid knows he can play. 
"He knows he can come in and play against the best players in the world."
But that confidence shouldn't be misinterpreted for a lack of humility, Smith knows he's competing for a spot on the Chiefs' roster and will most-likely earn it the same way as the young players did before him. 
"Rookies make their names on special teams their first few years," Smith said. "I'm willing to do whatever it takes. Like I said, moving from offense to defense, I wanted that ball in my hand. Every time I get the ball in my hand I am trying to score."
Whether it's on special teams or if he earns time at cornerback, where he spent a lot of time working inside during minicamp, Smith said the goal for him and the entire Chiefs' 2018 draft class is to first make the 53-man roster. 
Smith said the group has already grown close, adding he was rooming with fourth-round pick, safety Armani Watts out of Texas A&M, during the three-day minicamp. 
"We clicked right when we first met," Smith said of he and Watts. "We're all good guys and we're all pushing each other."