We continue our Chiefs Rookie Recap series, featuring interviews with each of the team's eight 2013 draft choices, in order, addressing a summary of their OTA and minicamp experiences, expectations for this season and more.
The Kansas City Chiefs selected California University of Pennsylvania OL Eric Kush with their first of two picks in the sixth round (170th overall) of the 2013 NFL Draft in April. After drafting Kush, Chiefs general manager John Dorsey described the selection.
"Eric Kush; I'm very intrigued by this player," Dorsey said. "What separates him, he's a really good athlete, his first two or three steps are exceptionally quick and to play the center position, I think quickness is very, very important....He's the blue collar, western PA, tough, hard-nosed guy. He fits in with what we are kind of trying to do here."
Following those comments by his general manager, Kush joined the rest of his new Chiefs teammates and completed the offseason training program. The proud husband and father, Kush later took some time to describe his past couple of months as a rookie in the NFL.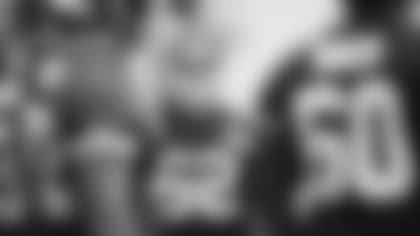 How would you evaluate your first Chiefs offseason training program?
Kush: "Before, I said it was really similar in college, how an offense runs and everything and now that I'm a month or so into it, it's a lot more complicated than I first thought. There are so many more intricacies and little things that you have to pay attention to that, as a rookie, you have to try and get on top of as fast as you can; I think that's the biggest difference, how much more there is to know, than in college."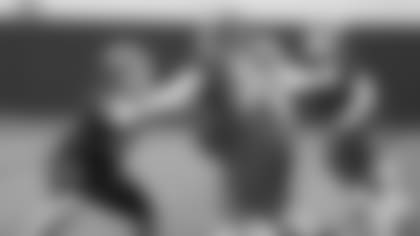 What will you be doing until training camp begins?
Kush: "It's going to be just the same, a lot of hard work.....I'll enjoy the time with my son and my wife but mostly, just working hard, getting in the best shape I can be in, for camp."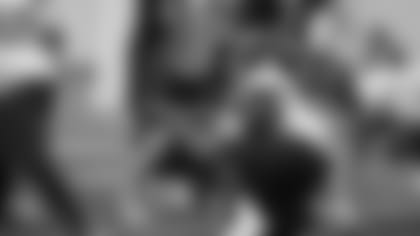 What are two important lessons you learned during the OTA and minicamp practices?
Kush: "The two most important lessons are definitely, know your stuff. You have to hit that (play)book all day, throughout practice and then when you go home, it has to be all book, until you go to bed, you have to keep your head in the book. And two is, you have to work hard every play to stay on top."
Eric Kush practices what he preaches, playing every snap as if it's his last  and studying the playbook, learning it like the back of his hand. This Chiefs rookie is on a mission to provide the team with reliable and consistent production. His diligent work will continue during training camp, when he and the Chiefs rookies report with the team's QBs on July 22.
The Rookie Recap series continues on Monday, featuring the team's second sixth-round pick in the 2013 NFL Draft, FB Braden Wilson.