Days after Kansas City Chiefs three-time Pro Bowl RB Jamaal Charles was honored as the 2013 Fantasy Football Player of the Year, it seems fitting to review the body of work done by the rest of Jamaal's running mates. We recently looked at Jamaal's spectacular season, including his 259 carries for 1,287 rushing yards and 12 TDs, added to his team-high 70 receptions for 693 yards and 7 TD receptions, but he would be the first to admit he couldn't achieve such ridiculously-good numbers without Chiefs head coach Andy Reid, RBs coach Eric Bieniemy, the Chiefs O-line and his fellow RBs.
Chiefs FB Anthony Sherman was traded to Kansas City from Arizona for CB Javier Arenas (5/1/13) and he fit right into coach Reid's system. Sherman appeared in 16 games (eight starts), recording 17 receptions for 155 yards (8.6 avg.) with one touchdown, as well as two carries for three yards. During the season, Sherman served as a team captain in Week 5 against the Tennessee Titans, (recording two receptions for 13 yards and one special-teams tackle) and Week 14 against the Washington Redskins (recording one special-teams tackle). Sherman led the team with 12 special-teams tackles in 2013.
"Sherm" started in his first-career postseason contest, logging two receptions for one yard (0.5 avg.) with one touchdown in the Wild Card matchup against the Indianapolis Colts.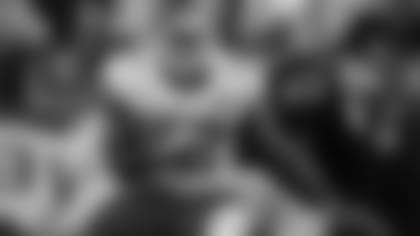 Chiefs RB Cyrus Gray appeared in 12 games on offense, recording nine carries for 24 yards (2.7 avg.) and seven receptions for 46 yards (6.6 avg.). He also contributed on special teams, playing in 16 games, recording five tackles (four solo) and one fumble recovery against the Philadelphia Eagles in Week 3. Cyrus appeared as a reserve running back, as well as on special teams, in the Chiefs postseason matchup against the Colts.
Gray served as one of the team's captains in Week 9 and Week 17, where he recorded two carries for two yards and three receptions for seven yards, as well as one special-teams tackle.
Chiefs RB Knile Davis was selected by the team with its second of two picks in the third round of the 2013 NFL Draft. Davis played in all 16 games and made his first NFL start at San Diego (12/29/13), totaling 27 carries for 81 yards and two TDs, along with two receptions for five yards and one kickoff return for 25 yards.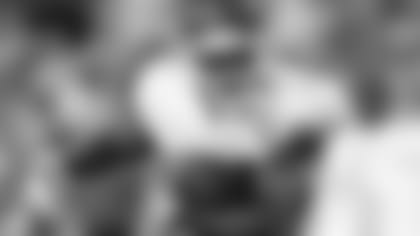 Davis recorded his first rushing touchdown on a 17-yard carry at Washington (12/8/13) and his 242 total-rushing yards in 2013 ranked third on the team, behind Jamaal Charles and Alex Smith. Knile's 30 points scored this season were the fourth-most on the team. For the season, Davis had 70 carries in 16 games for 242 yards (3.5 avg.) with four touchdowns and 11 catches for 75 yards (6.8 avg.). He also recorded a 108- yard kickoff return for a touchdown vs. Denver, which is currently the longest return of any kind in Chiefs history.
In the place of an injured RB Jamaal Charles, during the AFC Wild Card matchup against the Colts, Davis finished as the team's leading rusher, racking up 67 yards on 18 carries (3.7 avg.) with one rushing touchdown. He added seven receptions for 33 yards with a receiving touchdown. Davis tied the franchise record for most touchdowns scored in a postseason game. Knile became the sixth Chiefs player to accomplish the feat.
While the rushing attack and special teams efforts by the Chiefs RBs were very worthy of another look, the guys will be continuing their work ethic into the offseason, aiming to make the 2014 season even more memorable.
ICYMI other "By the Numbers" posts:
We'll conclude the series on Friday, with a look at the Chiefs TEs.