The Kansas City Chiefs signed defensive tackle Jerrell Powe and released wide receiver Chad Hall, the team announced today.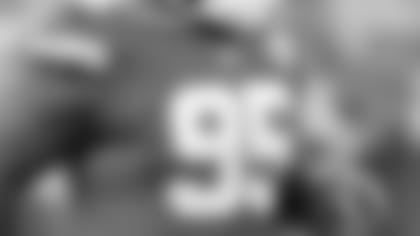 Jerrell Powe (6-2, 331) rejoins the Chiefs after being released by the club on Dec. 13. He originally joined the Chiefs as the club's sixth-round pick (199th overall) in the 2011 NFL Draft. He was released prior to the start of the 2013 season and then rejoined the club on Dec. 3, 2013. He has played in 10 contests in two NFL seasons with the Chiefs (2011-12), recording six tackles (five solo). Powe saw action in 37 games (22 starts) at Mississippi, recording 69 tackles (49 solo), 24.0 stops for loss (-80.0 yards) and 7.0 sacks (-29.0 yards). He also had an INT, two passes defensed, one forced fumble, one fumble recovery and three QB pressures.
He spent one season at Hargrave Military Academy in Chatham, Va., and prepped at Wayne County High School in Waynesboro, Miss.
Chad Hall has played in 24 games (one start) in over two NFL seasons with the Kansas City Chiefs and Philadelphia Eagles. Hall originally came to Kansas City on Sept. 1, 2013, via waiver claim from San Francisco. He has played in nine games with the Chiefs, recording two catches for 20 yards. Hall's career numbers include 16 receptions for 155 yards (9.7 avg.) with two touchdowns. He has returned 10 punts for 107 yards (10.7 avg.) and six kickoffs for 108 yards (18.0 avg.).
He originally entered the NFL as an undrafted free agent with the Eagles in 2010. Hall played collegiately at the Air Force Academy and prepped at Wesleyan School in Norcross, Ga.