The Kansas City Chiefs announced on Friday that the club has signed linebacker Frank Zombo and defensive tackle Vance Walker.
"We're pleased that we were able to come to an agreement with both Frank and Vance," Chiefs General Manager John Dorsey said. "Frank was a key member of our defense and special teams units last season, and we are looking forward to having him back. Vance is a big, physical player that we believe can come in and contribute for us up front."
Zombo (6-3, 254) has played in 41 games (14 starts) in four NFL seasons with the Kansas City Chiefs (2013) and Green Bay Packers (2010-12). His career numbers include 76 tackles (58 solo), 7.0 sacks (-56.0 yards), one interception and three forced fumbles. Zombo played in all 16 games (five starts) for the Chiefs in 2013, tallying 23 total tackles (19 solo), 2.0 sacks (-15.0 yards), one interception and one forced fumble.
The Sterling Heights, Mich., native, originally entered the NFL as an undrafted free agent with the Packers in April of 2010. He played collegiately at Central Michigan, where he was an All-MAC first-team linebacker, ranking second in school history with 25.5-career sacks. He prepped at Adlai E. Stevenson High School in Sterling Heights, Mich.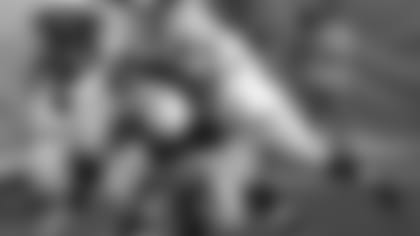 Walker (6-2, 305) has played in 73 games (26 starts) in five NFL seasons with the Oakland Raiders (2013) and Atlanta Falcons (2009-12). His career numbers include 119 tackles (82 solo), 8.0 sacks (-43.0 yards), 19 tackles for loss, two forced fumbles and one fumble recovery. Walker has seen action in four postseason contests, including two starts. He originally entered the NFL as a seventh-round draft selection (210th overall) of the Atlanta Falcons in the 2009 NFL Draft.
The Fort Mill, S.C., native, played four years at Georgia Tech, seeing action in 49 games (29 starts), where he racked up 110 tackles and 13.0 sacks. Walker prepped at Fort Mill High School.