The Kansas City Chiefs announced on Monday that the club has signed running back Knile Davis. The team has now signed three of its eight draft picks from the 2013 draft class.
Davis  was selected as Kansas City's third-round pick (96th overall) in the 2013 NFL Draft, after playing three years at the University of Arkansas, where he appeared in 36 games (15 starts), rushing 349 times for 1,862 yards (5.3 avg.) with 19-rushing touchdowns.
"It's something that I always dreamed of, just getting to this point in my life," Davis said. "It feels good but I know (when) much is given to you, much is required, so, I'm staying humble and am going to take it one day at a time. It's good to have the contract and have the privileges but there's a lot required with it."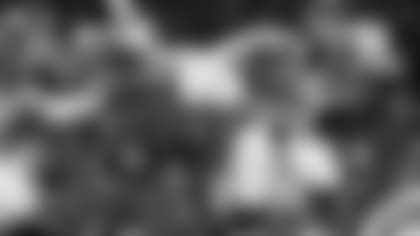 Battling injuries, as well as the doubters, Davis relies on his physical and mental toughness to overcome adversity.
"It's just in my blood," Davis said. "I want to work hard because I want to win. It just drives me and I'm going to continue to stay that way."
The team's new running back shared what Chiefs fans can expect from him in 2013 and beyond.
"Just a hard worker, always in the playbook and somebody who's going to give it his all on special teams and offense; that's what I'm going to do," Davis added.
His new deal follows Mother's Day, fitting as that is the first person Davis credited for his success.
"My mom and close family, my whole supporting group," Davis continued, "everybody that knows me, who has helped me to get from the Pee Wee level to the college level; I've had a lot of help on the way."
Despite an injury-plagued college career, 2010 was the breakout season for Knile, who led the SEC in rushing with 1,322 yards, the most by a running back in the conference and the fourth-highest single-season total in program history. His average of 101.7 rushing yards per game ranked just second in the SEC and 16th in the NCAA. Davis also ranked sixth in the SEC with 13 rushing touchdowns, tied for the 10th-highest single-season total in Arkansas history and tied for sixth in the SEC for points by a non-kicker with 84.
Davis' six 100-yard rushing games tied for the fourth-highest single-season total. His 6.48 yards per rushing attempt was the highest in the NCAA among running backs that carried the ball a minimum of 200 times and ranked as the fifth-highest single-season average at Arkansas. He averaged 112.2 all-purpose yards per game, which ranked sixth in the SEC.
He added 32 receptions for 297 yards, with two receiving TDs for the Razorbacks.
The Missouri City, Texas native prepped at Thurgood Marshall High School in Fort Mead, Texas.