The Kansas City Chiefs signed their top draft pick OL Eric Fisher, the team announced today.
"I'm real excited to be here," Fisher said upon arriving to Scanlon Hall. "Just had to get that contract done but, I'm really looking forward getting to training camp here, joining the team and glad we could get to an agreement and get it done."
In a league that's obsessed with numbers, Fisher's deal comes 92 days after the Chiefs selected him with the No. 1 overall pick in April's draft. The deal couldn't get done soon enough, as Fisher patiently waited to rejoin his teammates.
"It was pretty tough," Fisher said of being away. "When you have other things on your mind, it takes away from football, so, the less you have on your mind, the more you can focus on the game and improving at the game every day."
Chiefs offensive line coach Andy Heck and his assistant Eugene Chung will welcome Fisher back today, being impressed with the rookie since day one.
"Absolutely he's worth it," coach Heck said of Fisher in May.
"He was my favorite offensive lineman in this draft. He's a guy that I felt could help this football team. We've added a tremendous offensive lineman, a guy that I think can excel in this league, play at a high level and we're adding him to a solid group and that's just going to make us better as a football team. I'm very pleased that we were able to add a football player as good as he is."
Aside from his coaching staff, the player most likely excited about Fisher's signing is Chiefs QB Alex Smith, who now has his bookend tackles in place, Fisher at right tackle and Chiefs LT Branden Albert protecting Smith's blindside.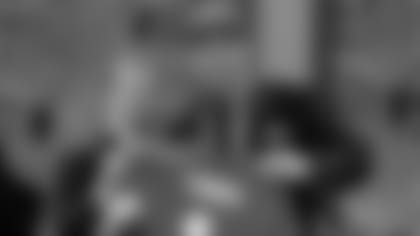 Fisher's deal also finalized the signing of all eight picks from the team's 2013 draft class.
The 6'7, 306-pound Fisher was the first of five offensive tackles and the first of nine offensive linemen picked in NFL Draft's first round, which followed his meteoric rise up team draft boards, stemming from his national-stage performances.
Fisher dominated at the Senior Bowl and followed up with impressive numbers at the 2013 NFL Scouting Combine, which followed his career at Central Michigan University, where he played in 42 games, including 32 starts (26 at left tackle, four at right tackle and two at right guard). As a starter, he registered 341 knockdowns/key blocks, and produced 45 touchdown-resulting blocks.
Very proud of his roots, Fisher prepped at Stoney Creek High School in Rochester Hills, Michigan.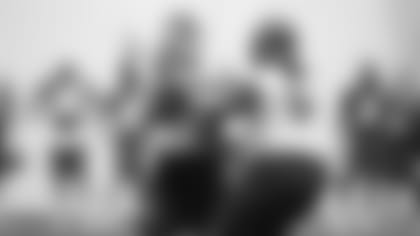 Even before stepping on the field for Chiefs head coach Andy Reid, Fisher's reputation preceded his performance.
"He's a competitive kid that is intelligent and a good citizen and he'll be good in the locker room," coach Reid said in April.
"He's not a real loud guy, he's a quiet guy that goes about his work and does his job. Everyone that you speak to that knows him gives you that same run down, humble kid that's had to work to get where he's at and I appreciate that part, that's a good quality to have."
Fisher is anxious to return to the environment that he knows best.
"This is what I do, I play football," Fisher said. "Obviously, there are other things that come along with playing football at this level but, that's just part of the game. I'm really looking forward to throwing on the pads and getting to work."
Fisher's teammates have also been impressed with his body of work, including Chiefs LT Branden Albert.
"He's going to be a special player," Albert said during OTAs. "He works hard; he has all the tools and whatever he's going to play, he's going to be good at it."
With the ink drying on his first official NFL contract, Fisher will continue to impress his teammates, coaches and fans during the 2013 season and closed our conversation with a promise.
"I'm just going to work as hard as I can and do the best job I can," Fisher said. "I think that's all I can ask of myself, to come here and work every day and just do my best."
And that's exactly what Andy Reid expects out of Fisher and all of his players, their absolute best, in 2013 and beyond.