The Chiefs Offensive Linemen participated in the 11th Annual Private Cellar Wine Tasting and Silent Auction event to support First Downs for Down Syndrome (FDFDS).
The FDFDS has been the charity of choice for the O-line and since it's inception in 1992, together they have raised nearly $7.6 million for the Down Syndrome Community. This charity is supported solely through tax-deductible contributions and fundraisers throughout the year.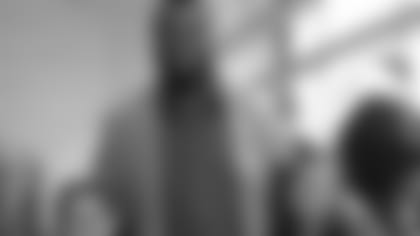 "We are a unique organization, as we partner with the Chiefs Offensive Linemen and one hundred percent of our proceeds benefit a Down Syndrome organization in Kansas City," Amy Stoll, Executive Director of FDFDS, explained. "We were formed in 1992 and together we raise money for the Down Syndrome community in the area."
There are hundreds of families in the Kansas City area caring for a loved one with Down Syndrome. With the help of FDFDS, these families have local access to vital medical, emotional, and educational support services.
"Our offensive line's tie to FDFDS has truly evolved over these past two decades," Chuck Castellano, Chiefs Community Relations Manager, noted. "Throughout that time, the one constant has been the genuine excitement our players have when they interact with these remarkable children and their families. Fundraisers and events like these are such a huge component to helping FDFDS make an impact in our community."
During the event, guests enjoyed a wide selection of wines to taste and bid on, along with a live auction and a silent auction. All of the money raised will support local charities, such as the Down Syndrome Guild of Greater Kansas City, the Mission project and others.
"This is my third year in a row to attend this event and I love it," Jeff Allen said. "This is such a great cause. The offensive line has continually supported this charity, raised money and donates to this cause. We've met a lot of incredible kids through this organization and want to let them know that we support them."
To show your support, later this year, the Chiefs will be hosting the annual Step Up for Down Syndrome Walk at Arrowhead Stadium. This is a one-mile walk around the stadium and raises awareness for FDFDS and supports the Down Syndrome community. Check back at kcchiefs.com for details. To learn more about FDFDS, click here.