Former Chiefs player Tony Gonzalez was back in Kansas City this weekend and was joined by current Chiefs players and Sporting KC players to support the Shadow Buddies Foundation. The foundation provides emotional support and education to medically challenged children and their families in times of need.
On Friday evening, at Arrowhead Stadium, the Shadow Buddies Foundation hosted "Scoring a Victory for Children" to raise money for the organization through a silent and live auction.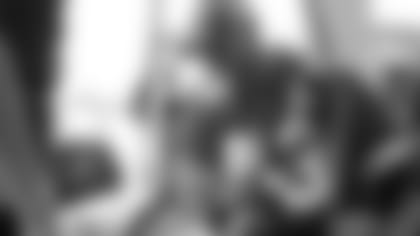 "The Shadow Buddies Foundation focuses on children who are going through something in life and they need a good buddy there with them," Chiefs P Dustin Colquitt explained. "The Shadow Buddy is a doll that resembles the child, so they know they aren't in this alone, but they have a buddy that is there for them."
Shadow Buddies are designed to be a friend for seriously ill or medically challenged children. The Buddies not only provide comfort to the ill child, but are also a unique form of play therapy. The Buddies remain with the child throughout their treatment, providing long-term psychological support. The foundation is sending out their one-millionth buddy later this month.
"It's all about putting a smile on a child's face," Gonzalez said. "During our hospital visits over the years, some of the children's mothers have told me, 'I haven't seen my child smile in a month.' It means so much to these children and helps bring joy to their life in a time of need."