The Kansas City Chiefs and Oakland Raiders rivalry is closer to resuming, following a busy day at One Arrowhead Drive, including Friday's practice that has the Chiefs prepared for Sunday's 109th meeting between the AFC West foes.
Chiefs head coach Andy Reid addressed the media, following Friday's practice, beginning with the latest injury update.
"The people that did not practice today were Anthony Fasano and Travis Kelce. Brandon Flowers tweaked his other knee, just a little bit," coach Reid said. "Kendrick Lewis practiced a little bit today, making progress and then everybody else went and practiced. We look forward to the challenge of playing the Oakland Raiders. We know they're a good football team. That catches your attention right away, when you turn on the tape. The players, they've handled this the right way. They've had a good week of practice and they're looking forward to that challenge."
One of the many things coach Reid has noticed during his team's 5-0 start is the players' approach and focus, prior to each and every game, including this week's rival game against the Raiders.
"I just look at what they do out here and in the classroom," coach Reid said. "I think that's the most important thing. They came out, they worked hard, they've done it in the classroom and it looks like they (are studying) the right way."
Preparing to face the Oakland Raiders for the sixth time in his career, Chiefs WR Dexter McCluster says all three phases of the team, offense, defense and special teams, are ready to roll.
"This year has been all about focus, execution and working together in all phases of the football game," McCluster said. "Our offense has been doing some great things. Our defense has been tremendous and special teams, I mean, the guys have been going out there and making plays for us; we just have to remain humble, remain focused and know what got us this far, the attention to detail on-and-off the field."
New to the Chiefs in 2013 is CB Sean Smith, who says the team's veteran leaders have set the bar high, showcasing a work ethic and discipline that has ultimately led to five-consecutive wins this season.
"I think everybody's just following the great leaders we have on the defensive side of the ball," Smith said. "Guys like Eric Berry, Derrick Johnson and Brandon Flowers, just to name a few. I'm new, but since day one, those guys have set a standard for what they want this defense to be, so we're just following what they're doing and so far, it's worked for us."
Also new to the Chiefs this season is CB Marcus Cooper, who spoke more to Smith's point, about the team's practice mentality, which remains dialed-in for Sunday's matchup with the Raiders.
"I think we have a great group here," Cooper said.  "This is something that was established a while back, maybe even back in high school football and college. I think everybody just brining that collective nature, humbleness, that will to want to get better and learn stuff and just bringing it to the table each and every day is helping us in big ways."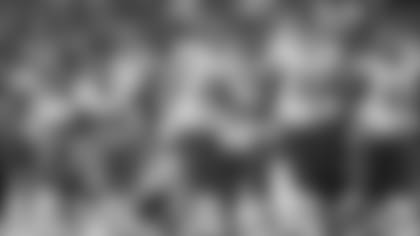 Returning to practice and listed as probable for this week's game is Chiefs rookie offensive tackle Eric Fisher, who described his emotions of being back from the concussion injury that occurred in Week 4, against the New York Giants.
"Yeah it's a great feeling," Fisher said. "It was tough last week, just watching; you have to go through those things, in this game, though. I'm really happy to be back and am looking forward to this week. It's a huge game for us."
When asked if the Chiefs fans can break the sound record, described below, Fisher didn't hesitate to answer.
"Oh yeah," Fisher said. "Obviously, this is the loudest stadium that I've ever played in and after a couple of games that we've had here, it's definitely something I'm looking forward to. The place is going to be rocking."
The Chiefs will continue with more game preparation on Saturday, before the potential record-breaking day at Arrowhead Stadium takes place on Sunday; Chiefs fans are hoping for ultimately a 6-0 start, with the parting gift being a Guinness World Record for Loudest Crowd Roar at a Sports Stadium (Outdoors).
RB - Jamaal Charles (toes) - full participation - probable for Sunday
P - Dustin Colquitt (right knee) - full participation - probable for Sunday
LB - Justin Houston (concussion) - full participation - probable for Sunday
OL - Jeff Allen (groin) - full participation - probable for Sunday
WR - Donnie Avery (shoulder) - full practice - probable for Sunday
TE - Sean McGrath (knee) - full participation - probable for Sunday
LB - Dezman Moses (toe) - full participation - probable for Sunday
OL - Geoff Schwartz (tricep) - full participation - probable for Sunday
RB - Anthony Sherman (knee) - full participation - probable for Sunday
OL - Eric Fisher (concussion) - full participation - probable for Sunday
CB - Brandon Flowers (knee) - limited participation - questionable for Sunday
S - Kendrick Lewis (ankle) - limited participation - questionable for Sunday
TE - Anthony Fasano (ankle/knee) - did not practice - doubtful for Sunday
TE - Travis Kelce (knee) - out - will not play on Sunday