Tight end Travis Kelce stood at his locker as a group of cameras surrounded him Wednesday afternoon, he the only Kansas City Chiefs offensive player named to the Pro Bowl Tuesday night.
"It's a nice little honor," he told the media. "In a team sport like this game is, to get an individual award like this from your peers and the guys around you – in the locker room and all over the league – it's a humbling experience."
Kelce, 26, is three years removed from being drafted by the Chiefs in the third round of the 2013 NFL Draft. After a rookie season ridden with injuries, he broke out for 862 yards receiving and 5 touchdowns in 2014, instilling the confidence in the coaching staff and front office that he had what it took to be a team's No. 1 tight end.
So far in 2015, he's proven them right, compiling 822 yards receiving and 4 touchdowns. His 464 yards after the catch are second among all tight ends.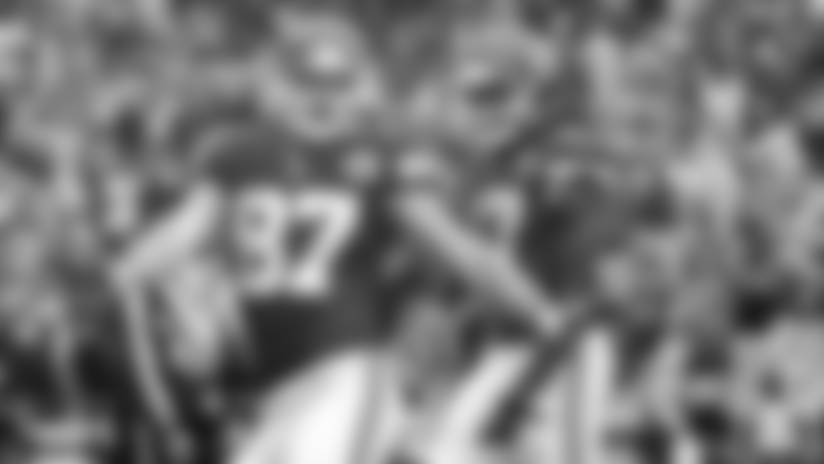 "Happy for him," said quarterback Alex Smith. "He's worked really hard. He's in here every off day catching balls, watching film, staying healthy, doing all the little things that it takes to have the year that he's had. I'm happy for him."
Kelce, through his actions and words, has also meant more to Smith and the Chiefs than on-the-field production in 2015. As the No. 1 tight end, he now serves as a mentor to rookies Brian Parker and James O' Shaughnessy and third-year player Demetrius Harris.
He sounded as such on Wednesday, deflecting all the attention of the Pro Bowl honor in favor of his teammates while preaching about the bigger picture.
"I thank everybody that voted for me all around the league but I wouldn't be in this position if it wasn't for the guys in this locker room," he explained, "for the coaching staff and for the players that I play with.
"It's every bit as much of an honor for them for getting me to where I am or getting this team to where we are right now."
As it stands now, the Chiefs are the fifth-place team in the AFC and very much in control of their own destiny.
That means that Kelce, along with the four other Chiefs Pro Bowlers, control whether or not they actually make it to the Pro Bowl game, as players from both Super Bowl teams obviously don't attend.
When asked about what Hawaii could be like, similar to when asked about the honor, Kelce deflected that too.
 "Hopefully I don't have to go," he said. "Our eyes are on the prize."