Two of the biggest plays in the Philadelphia Eagles' Week 1 victory over the Washington Redskins came at the hands of two-time Pro Bowl defensive tackle Fletcher Cox.
While the final box score will show just a single tackle for the 6-feet-4, 310-pound monster, the rest of his stat line tells more of the story. He had a sack, a forced fumble and a fumble recovery, which was part of a game-sealing scoop-and-score late in the fourth quarter.
"They move [Cox] all around, but that front is good," Chiefs coach Andy Reid explained Wednesday afternoon. "That's really a big strength of their defense is the front four and those linebackers. They put a lot of pressure on the quarterback and they've done it now for a couple years.
"I think they feel comfort in the things they do up front, and it starts with 91 [Cox]. He's a good football player."
With the Eagles holding a 22-17 lead with a little less than two minutes remaining in the game, standout edge rusher Brandon Graham, who is another member of that "speed" package often coming off the left side of the Eagles' defensive front, was able to get his hands on Redskins' quarterback Kirk Cousins and knock the ball out, which Cox picked up and ran back 20 yards for the touchdown.
Earlier in the game, Cox was able to beat the right tackle around the edge and get to Cousins for a strip-sack of his own. It was one of the four turnovers forced by the Eagles' defense.
"He has a high motor, and he's smart, strong, and powerful," Chiefs' offensive coordinator Matt Nagy, who along with Reid and several others now with the Chiefs, was on the Eagles' staff when Cox was selected in the first round (No. 12 overall) out of Mississippi State in 2012, explained. "There are so many positives that go into [Cox]. He has a great mindset and he understands the amount of games that go on in that front line."
Nagy also remembered Cox always trying to help in any way that he could.
"I remember he was always doing back-up snaps, wanting to be the long snapper if anything happened," Nagy added. "He really has a personality."
A great personality for a defensive lineman out of Mississippi State may sound familiar. It's the same school the Chiefs took Chris Jones from two years ago, and he's turned out to be pretty good, too.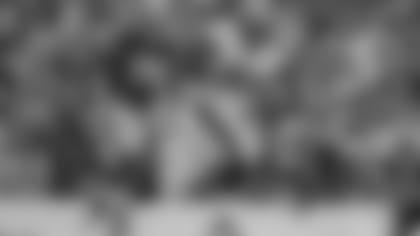 While the familiarity of him won't make the process of blocking him any easier, those tasked with trying to slow him down are aware of what they're up against.
"I think it's going to be a challenge," Chiefs' right guard Laurent Duvernay-Tardif explained of dealing with Cox. "But I think it's a great opportunity to show people what you're all about as a player. It's not going to be easy, everybody is getting paid to make plays in the league, but going against guys like that, it's when you can separate yourself."
Duvernay-Tardif said he hopes the Chiefs' offense, which currently leads the NFL with 537 total yards, can follow a similar path as what they were able to do last week against the New England Patriots.
"I think we did a lot of great things," he explained. "Especially getting the run-game going early. When you're able to get the defense to fear your run game, it opens up a ton of stuff—whether it's play action, or the pass game, I think that's what we were able to do in the second half with the two long passes for touchdowns."
The Chiefs—led by rookie Kareem Hunt—averaged 5.6 yards per carry in the first half, which as Duvernay-Tardif explained, opened up things for Smith in the second half.
Smith finished 28 of 35 for 368 yards and four touchdowns, which earned him the AFC's "Offensive Player of the Week" award on Wednesday. But as Smith noted, he's not drinking the Kool-Aid.
While every week is a challenge in the NFL, the Chiefs know that matching what they did offensively against the Patriots is much easier said than done, particularly facing a guy like Cox and the rest of that Eagles' front, but they're confident in their chances.
"I totally trust that Alex [Smith] will be able to sit in the pocket and make the throw he needs to make in order for us to score points and win the game," Duvernay-Tardif said.